Russell Callender
Director
Expertise
Executive leadership

Administration/program planning

Geological and biological oceanography

Paleoecology/benthic ecology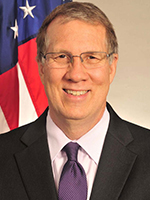 Russell joined Washington Sea Grant in 2018 as director. He has built a career providing executive leadership to major national scientific and operational organizations, where he has applied his experience as an interdisciplinary marine scientist, environmental policy expert and seasoned program administrator. He led progressively more complex scientific organizations, supervising up to 1700 people across the globe. Most recently, Russell was assistant administrator for NOAA's National Ocean Service (NOS), where he transformed the organization by unifying the senior executive leadership team, streamlining program execution, and developing and communicating new program priorities to staff and stakeholders. Prior to this, he was acting assistant administrator and deputy assistant administrator within the NOS.
Russell's career has focused on public service and the desire to make a positive difference for the planet, while working on national-scale issues at NOAA. As director of Washington Sea Grant, Russell looks forward to working on the ground at state and regional scales while continuing to influence coastal science, education and marine conservation.
Russell received a doctoral degree in geology at Texas A&M University, a master's degree in geology at Stephen F. Austin State University and a bachelor's degree in geology also from Stephen F. Austin State University, in Texas.