More Info

Nutritious
& Delicious
Can Oysters Make
You Sick?
Water Quality
Information
Order Oysters On-line!
Oyster Recipes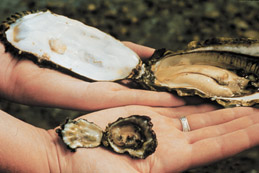 The Pacific oyster is a Goliath next to the tiny
Olympia. (photo by Anne Shaffer.)
To purchase live oysters, make sure the shell is undamaged, the oysters have not been out of water more than 10 days, and have not been buried in ice but are displayed on top of the ice, cup side down. The shell should be closed. Shucked oysters are packed in water and their own juices in containers -- look for the pull-date on the container to ensure freshness. Shucked oysters can be frozen up to three months. Their texture changes so they are best when cooked. An oyster doesn't take long to cook, but it should be cooked thoroughly. Boil or simmer meats for 3 to 5 minutes, using small pots so the ones in the middle get cooked. Steam live oysters in the shell for 4 to 9 minutes after the shell opens. Discard unopened shells. Broil oysters at least three minutes three inches from the broiler, or bake them for at least 10 minutes at 450 degrees.