The 30th annual Salish Sea Ecosystem Conference (SSEC)  
was held in Seattle, WA April 4-6, 2018. The SSEC gathers "scientists, First Nations and tribal government representatives, resource managers, community and business leaders, policy makers, educators, and students to present the latest scientific research on the state of the ecosystem, and to guide future actions for protecting and restoring the Salish Sea ecosystem." Many Washington Sea Grant staff presented on their collaborative research and community projects.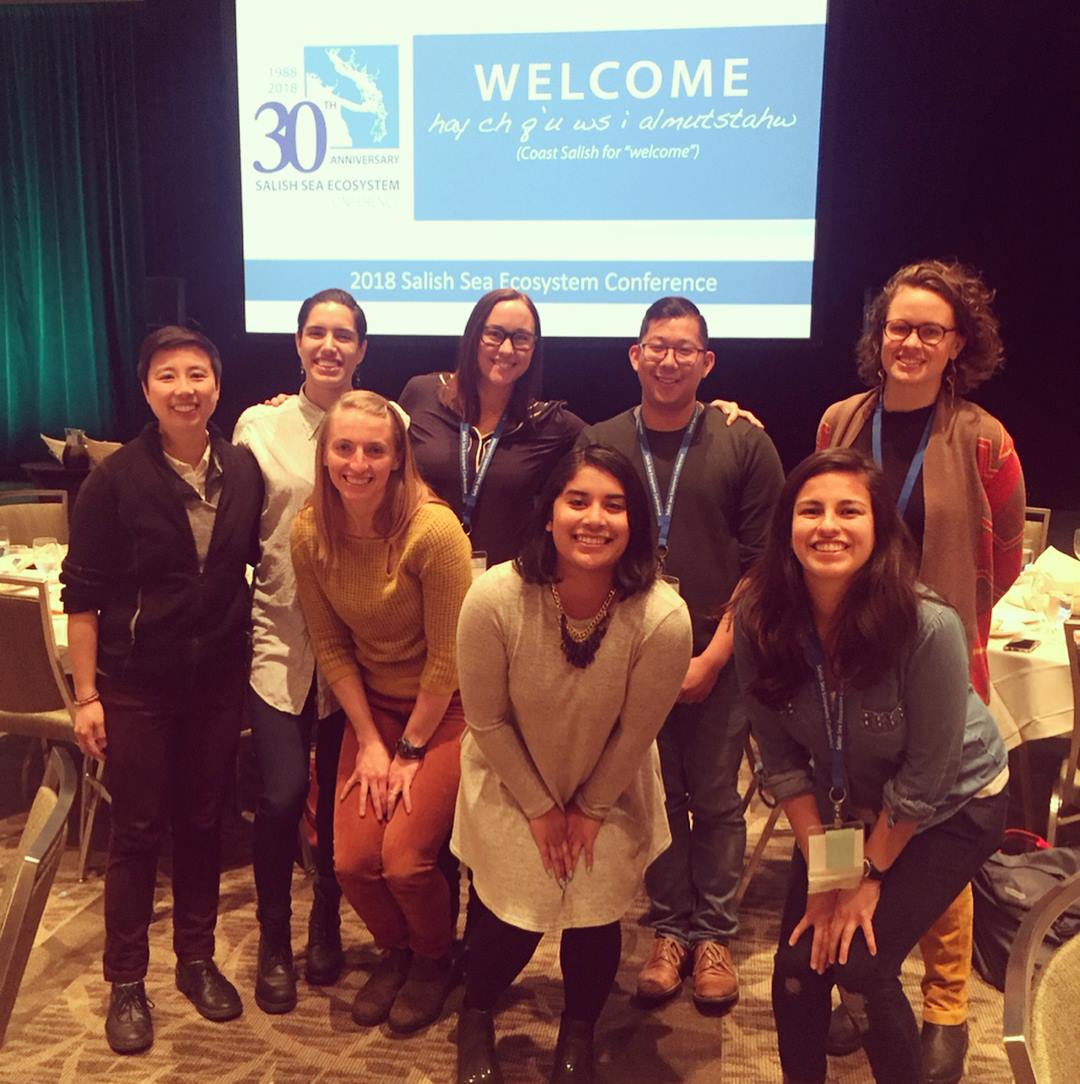 WSG's social scientist Melissa Watkinson participated on a panel titled "Diversity, Equity, and Inclusion for Environmental Progress" that was organized by Michael Chang, Climate Adaptation Specialist at the Makah Tribe, and Natalie Lowell, a graduate student at the School of Aquatic and Fishery Sciences at University of Washington. Other panelists included Dana Wu (Seattle Aquarium), Ava Holliday (Avarna Group), Nancy Huizar (Sustainable Seattle), Michelle Piñon (Sierra Club), and Jasmmine Ramgotra (Culture SHIFT). The session highlighted  the need to improve diversity, equity, and inclusion (DEI) in Salish Sea science and policy. Strategies for DEI implementation were discussed, including through  representation, content, and decision-making processes. The session was well attended, with standing room only. Participants submitted questions on note cards, many that fuel ongoing efforts through an emerging SSEC DEI community of practice.
Momentum related to DEI in Salish Sea ecosystem recovery 
continues following the 2018 SSEC. David Trimbach, a postdoctoral fellow from Oregon State University produced  an assessment of DEI at SSEC: Equity and Social Science Integration at the 2018 Salish Sea Ecosystem Conference. In the report, Trimbach acknowledged the DEI panel as the single session that brought about a broad discussion of equity at SSEC, and stated that "the session highlighted regional approaches and engagement around equity and environmental justice broadly…[and] included speakers and leaders in this area who spoke about their own efforts to better understand, integrate, and engage other regional institutions on equity within the broader environmental field." Further, the report found that "when compared to other topics, areas of interest, and types of approaches or research [at SSEC], social science and equity are marginal or limited." More can be done to integrate social science and equity within the work that is conducted across the Salish Sea. You can read the full report using the link above.
Be on the lookout for a future post about continued efforts for Salish Sea Diversity, Equity, and Inclusion Community of Practice