Aquaculture
We also offer local activities on shellfish. Learn more in Ocean Learning.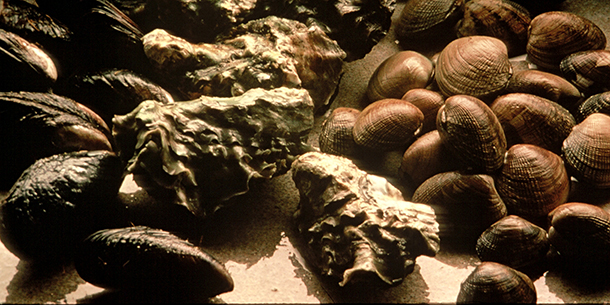 The Bivalves for Clean Water program educates marine shoreline owners and recreational shellfish harvesters about coastal pollution, ecosystem health, water quality and resource management issues challenging Puget Sound and Hood Canal. This multifaceted approach lets participants choose activities that fit their individual learning styles and interests.
Activities offered include workshops, field trips, shellfish-enhancement activities, citizen monitoring, beach walks and assessments, site visits, publications and one-on-one technical assistance.
WSG recruits and trains volunteers to identify and eliminate pollution sources in their watersheds, enhance recreational shellfish populations and conduct safe recreational harvest trips.
COVID-19 Resources for Shellfish Industry
WSG is closely monitoring the outbreak of the novel coronavirus — which causes the disease known as COVID-19 — and is making every possible effort to address the changing needs of the local shellfish aquaculture community. Through community outreach and a webpage, WSG is helping Washington State shellfish industry members connect to resources provided by the Washington State Governor's office during the COVID-19 outbreak.
Interest in macroalgae aquaculture is growing. Kelp and other seaweeds can be grown for food, animal feed, organic fertilizer, biofuels and other sustainable products. In Washington State, kelp aquaculture grew out of ocean acidification (OA) research. Because macroalgae absorbs nutrients and carbon dioxide as it grows, co-cultivation of macroalgae alongside farmed marine species can help recycle waste, and may buffer vulnerable organisms from the corrosive effects of OA.
WSG works with partners to investigate the impact that kelp aquaculture can have on OA and the potential commercial markets for farmed kelp, including using kelp as food and as fertilizer
WSG staff can also help answer questions about kelp and seaweed aquaculture and the educational and funding resources that are currently available.
SHELLFISH GROWERS CONFERENCE AND OTHERS
Each year, WSG participates in and organizes conferences and training workshops on aquaculture and related issues and shares research findings with decision makers, producers and resource managers.
WSG contributes to the Washington State Shellfish Initiative, the annual Shellfish Growers Conference, the Pacific Rim Shellfish Sanitation Conference, and one-time events such as symposia on aquaculture and the environment.
STATE OF THE OYSTER STUDY: TESTING SHELLFISH FOR HEALTH AND SAFETY
Ashleigh Epps, Aquaculture Specialist
Shellfish need clean water to thrive. Pollutants can destroy their beds, and bacteria taken up by shellfish can sicken people who eat them. WSG's State of the Oyster Study is a citizen science monitoring program that trains waterfront property owners to test the safety of their shellfish before consumption. On scheduled days, residents gather clams and oysters at low tide and bring them to WSG to be tested for Vibrio parahaemolyticus and bacterial indicators of fecal contamination. WSG then helps participants interpret the test results and, if necessary, works closely with them to identify and remedy sources of contamination.
The WSG Well Education and Testing program (WET)
WET is offered in tandem with the State of the Oyster Study. Testing your well water is the best way to identify possible contamination. The WSG WET provides homeowners with a local, inexpensive way to test well water.