A leader in research, outreach, and education for more than 40 years, Washington Sea Grant helps people to understand and address the challenges facing Washington's oceans and coasts.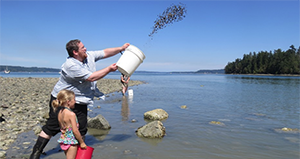 750,000 manila clam seeds were sown in one day last Thursday at Penrose State Park as part of an ongoing partnership between WSG and the Washington Department of Fish and Wildlife, where volunteers of every age were invited to participate in the seeding fun.
High levels of marine biotoxins that cause Paralytic Shellfish Poisoning continue to crop up in Hood Canal, leading the state to close several beaches in Jefferson and Mason counties to shellfish harvest, many for the first time.
Read about recent research, education, and outreach activities on our WSG news blog.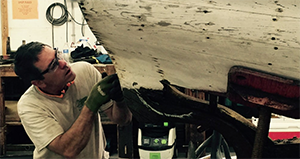 September 11-13: Meet WSG staff and learn about our programs at the annual Wooden Boat Festival in Port Townsend.
September 12-26: A two-week celebration of all things water, from beach tours to cooking demos and a 5k Run with Chums. Sponsored by WSG and others. Learn more.
October 2: OysterFest is an annual south Sound celebration of local seafood fare and features a WSG Kids' Day of fun and learning for hundreds of children.
Blogs
Opportunities