Fisheries and Seafood
Fishing and seafood have been part of the culture and commerce of Washington state for centuries. Washington's traditions, expertise, resources, and location give it a pivotal place in the seafood economy of the entire Pacific Coast, from California to Alaska. Today, the seafood industry — including harvesting, processing, marketing, and consumption — continues to play a key role in the region's economy and lifestyle. Washington Sea Grant (WSG) has provided safety training, technical guidance, and research to Washington state fishing and seafood communities for over 40 years. Examples include providing workshops on first aid and marine safety at sea; hosting conferences to bring current research to the public; and training retail seafood handlers.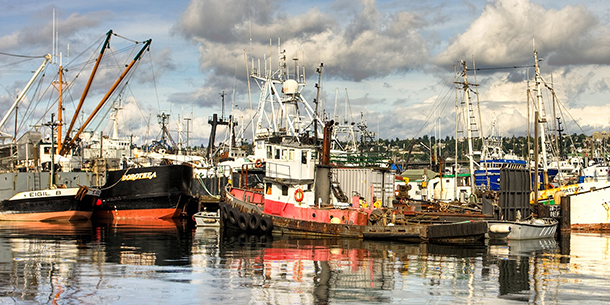 Learn More

Northwest Tradition

From tribal fleets exercising their treaty rights to oyster farms in South Puget Sound, we are intertwined with our living marine resources. A 2007 NOAA report found that 40 communities in the state were significantly engaged in or dependent upon commercial fishing. Although only a fraction of the regional economy as a whole relies on the fishing industry, certain localities such as Westport, Bellingham, and Neah Bay are highly dependent.

The Washington fishing communities identified in the 2007 report range from urban centers like Seattle to rural areas with populations of fewer than 500 people. More than half of the state's fishing communities have fewer than 5,000 residents. From an economic perspective, Washington's living marine resources sector — commercial fisheries, aquaculture, and seafood businesses — tops the national rankings with a value of $1.2 billion, accounting for almost 10,000 jobs and more than half a billion dollars in wages. Just the commercial fishery landings in the state totaled more than 221,000 metric tons in 2011, worth nearly $320 million. This distinction is due in large part to the state's role as homeport to the North Pacific fishing fleet, the largest fishing enterprise in the nation. The rankings also reflect coastal marine ecosystems that provide diverse habitats and support numerous species of fishes, crabs, oysters, and other wildlife.

Washington's waters also support a vigorous aquaculture industry. Washington leads the country in production of farmed clams, oysters, and mussels, with an annual value of more than $107 million. In addition, the state has a longstanding tradition of recreational and subsistence harvesting. Residents and visitors purchase 300,000 licenses each year to harvest clams and oysters, providing more than $3.3 million in state revenue.

Sustainability

Sustainability is defined as meeting current needs without compromising the ability to meet future needs. In 2011, eight species in the West Coast groundfish fishery were managed under rebuilding plans because of overfishing. The plans involve a catch share system, which allocates a secure privilege to harvest a specific area or percentage of a fishery's total catch to individuals, communities, or associations. Though contentious, the management plans appear to be successful in reducing waste and improving revenues.

Other Challenges

Environmental: The aquaculture industry faces intensifying challenges from environmental stressors such as ocean acidification and harmful algal blooms. For example, in recent years, Washington shellfish hatcheries have experienced significant losses and have altered management practices to compensate for changing environmental conditions. For both healthy and at-risk populations, improved understanding of population dynamics and environmental factors enhances our ability to sustainably manage living marine resources.
Competition: The fishing and aquaculture industries face an economically competitive environment. In 2011, more than 90 percent of seafood consumed in the United States was imported. In Washington, local commercial fishermen search for marketing strategies and product niches that can sustain their industries. Shellfish aquaculture is confronted with use conflicts, environmental concerns, shoreline development issues, and a lack of data to evaluate economic benefits and trade-offs.
Safety: Twenty-six percent of the nation's fishing fatalities from 2000 to 2009 occurred in the Seattle-based Alaska fisheries fleet. In 2009, six Columbia River tribal fishermen lost their lives in fishing operations. Many deaths in commercial fishing are preventable. Fishing operations can be made more efficient and profitable with relevant, targeted, and accessible training opportunities.
Quality: Seafood safety and quality need to be improved. This requires research, technical assistance, and public outreach. Strong consumer demand exists for safe, high-quality seafood from sustainable sources, with important implications for human health and commercial profitability.
Community Engagement
WSG staff have a long history of working with the fishing and seafood industry, providing training and assistance to the fisherman who catch the fish and the retailers who sell it.
Research Projects
Through scientific research and hands-on work with communities, organizations, and individuals, WSG helps make fisheries and aquaculture operations safe, sustainable, responsibly managed, and economically vibrant; WSG also helps seafood consumers understand the health benefits, safety, and sustainability of their seafood choices. We continue to address important issues, including:
In the News
Online Library
Visit our online library to learn more.