National Marine Fisheries Service –
Sea Grant Joint Fellowship
Fellowship dates: August 1, 2020 – July 31, 2023
Overview
National Marine Fisheries Service – Sea Grant Fellowship (NMFS-Sea Grant Fellowship) fellows gain direct experiences working closely with NOAA experts on thesis issues of public interest and relevance to NOAA's National Marine Fisheries Service. The Washington facilities include the Alaska Fisheries Science Center, Northwest Fisheries Science Center, and National Marine Mammal Laboratory. The program also fosters ties between NOAA and academic scientists at non-government research institutions. 
Fellows are provided with two- and three-year research opportunities in either population and ecosystem dynamics or marine resource economics.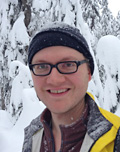 The best thing about the fellowship for me was how flexible the funding was. I was able to travel as the circumstances of my research required and research South African sea turtles. This diversity of research will be extremely useful and it distinguishes this fellowship from typical doctoral fellowships.
Jim Thorson, fisheries resources analyst at NOAA's Northwest Fisheries Science Center and a 2009–2012 Population Dynamics Fellow