Addressing Shoreline Armoring in Puget Sound: Weaving together the past and future of design, science, regulations, education, and outreach
April 23, 2019 @ 9:00 am

-

4:00 pm

Free
SOLD OUT.  Please contact Nicole Faghin to be placed on the waiting list – faghin@uw.edu.
Join us for a workshop to discuss where we have come from and where we are going to address shoreline armoring in Puget Sound.   Some of our guest speakers have been working in this field for over 30 years and can provide perspective of changes over time.  Key topic areas to be discussed include: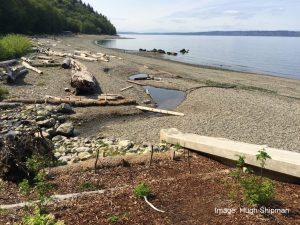 Overall perspective by Hugh Shipman, Department of Ecology
Designing our shorelines with Peter Hummell, Anchor QEA; Jim Johannessen, Coastal Geologic Services; and Corey Morss, Washington Department of Fish and Wildlife
Scientific understanding of shorelines with Charles "Si" Simenstad and Jason Toft, University of Washington
Regulatory Issues with Tim Gates, Department of Ecology; Aimee Kinney,Puget Sound Institute; and Susan Meyer, US EPA
Education and Outreach with Ginny Broadhurst, Salish Sea Institute, Western Washington University
New Shoreline Armoring Implementation Strategy with Jennifer Griffiths, Washington Department of Fish and Wildlife
We will learn from these and other experts about how we have made changes over the past 30 years or so and how all of these issues are intertwined, through presentations and panel discussions.
Your feedback is important! We will use breakout sessions to learn how you are incorporating new ideas into your work and what you need to work towards your goals to improve the shorelines of Puget Sound.
Tickets are not available as this event has passed.