Eyes on the Beach, Boots in the Mud: South Sound Symposium
September 20, 2016 @ 8:00 am

-

4:00 pm

$20 – $40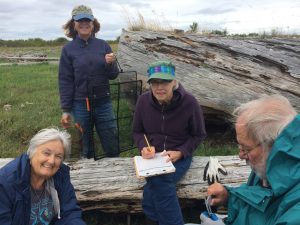 Attend a poster presentation by the Washington Sea Grant Crab Team at the South Sound Science Symposium. Symposium registration is $20 for students and $40 for regular registrants. More information on the SSSS Website.
Abstract: Because of a recent range expansion, the European green crab (Carcinus maenas) presents an invasion risk to Washington's inland shorelines. The global invader established in coastal embayments like Willapa Bay in 1998, but numbers subsequently dwindled owing to poor local reproductive success. In 2012, Canadian wildlife officials discovered a population of green crab in Sooke Inlet near Victoria, British Columbia, well within the Strait of Juan de Fuca. The proximity to numerous isolated soft-sediment habitats ideal for green crabs, combined with the recent record-breaking ENSO indices, provide an ideal opportunity for continued range expansion.
Early detection of invaders is the most cost-effective way to reduce the economic and ecological harm to native habitats. To maximize monitoring coverage, the WSG Crab Team launched a citizen science monitoring effort in 2015. Currently more than 100 trained volunteers monitor 25 sites monthly (April – September) as the Crab Team's "boots in the mud". In addition to performing multimodal searches for the target species, volunteers collect information on pocket estuary and salt marsh habitats and organisms, building a continuous dataset for these isolated and understudied environments in the Salish Sea.
Related Events