News Release
FOR IMMEDIATE RELEASE
December 4, 2021
CONTACT: Sarah Fisken, 206-543-1225 or sfisken@u.washington.edu
MARINE WEATHER WORKSHOP
Learn to read the weather before you head out on the water.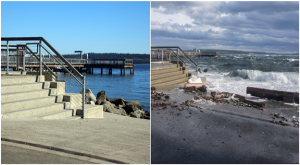 Port Townsend, WA – Washington Sea Grant and the Port of Port Townsend  are cosponsoring a Marine Weather Workshop on December 4 in Port Townsend, Washington.
Topics to be covered include weather charts, global winds, waves, atmospheric pressure and wind, fog, weather models and more.
 When:   Saturday, December 4, 2021
                9am to 4pm
Where :   Marina Room
                   Pt. Hudson Marina
                   Port Townsend, WA
Fee:    $60
For more information and to preregister contact Sarah Fisken at  sfisken@uw.edu or call  206-543-1225
####
Washington Sea Grant, based at the University of Washington, helps people and marine life thrive through research, technical expertise and education supporting the responsible use and conservation of coastal ecosystems. The National Sea Grant College Program is part of the National Oceanic and Atmospheric Administration, U.S. Department of Commerce. www.wsg.washington.edu.
Join the conversation: @WASeaGrant and Facebook.com/WaSeaGrant.