Self-Guided Field Trip: Farm to Table – An Aquaculture Experience
WSG's aquaculture technical assistance helps bring safe shellfish to award-winning Seattle restaurants.

Restaurant Tour – Hop in a car for a tour of Seattle's best oyster bars, where you'll taste firsthand the collaborative efforts of WSG, local shellfish growers and restaurants.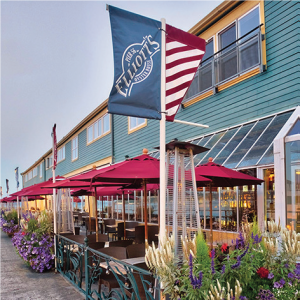 Elliott's Oyster House
Located on Pier 56, Elliott's Oyster House offers a smorgasbord of farmed oysters from around the Pacific Northwest. Elliott's is the showcase venue for the Capital City Oyster, a type of oyster created by fifth generation shellfish farmer Tom Bloomfield. Tom's south Puget Sound farm specializes in tide-tumbled oysters. Tom has partnered with Teri King, Washington Sea Grant (WSG) aquaculture and marine water quality specialist, to present small scale shellfish farming workshops. His research team also participates in SoundToxins, a citizen science program that conducts weekly monitoring of phytoplankton species at 45 locations within Puget Sound. SoundToxins provides an early warning system for harmful algae that can produce dangerous biotoxins when consumed. WSG manages the volunteer training and coordination of SoundToxins.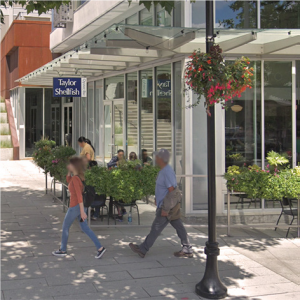 Taylor Shellfish Oyster Bars
Drive one mile north on I-5 from Pier 56 and take exit 166 to Melrose where you'll find one of three Seattle Taylor Shellfish oyster bars, serving not only oysters, but also clams and geoduck. This location is open for limited dining hours, and the Queen Anne location is currently closed due to COVID-19 guidelines. Taylor Shellfish is run by the largest bivalve culturing company in Washington State, with a workforce of more than 400 employees. Teri works with Taylor Shellfish farmers on water quality issues for their farms on an ongoing basis. One such farm contributes 33 percent of all Manila clams sold by Taylor each year. Teri also hosts the annual Conference for Shellfish Growers, where Taylor Shellfish Farm managers learn about new culture techniques, water quality and other emerging issues. The annual conference is a valuable venue for sharing new research and bringing researchers and shellfish producers together.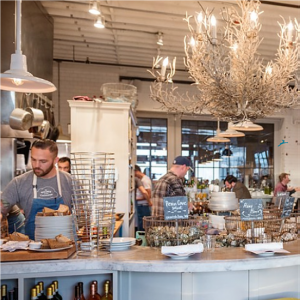 The Walrus and The Carpenter
From Queen Anne, drive 7 miles north to Ballard, where the award-winning Walrus and Carpenter restaurant is located. The restaurant, in partnership with Hama Hama Oyster Company and other local shellfish producers, serves the freshest, most sustainable oysters possible. Every other spring, Teri provides field crew training to Hama Hama employees, exploring the species related to sustainable aquaculture in Hood Canal. Teri has also worked with Hama Hama to conduct environmental monitoring for locating a Floating Upwelling System (FLUPSY), or shellfish nursery, to overcome seed supply shortages. This work in turn led to the installation of FLUPSYs by Hama Hama and five other companies within the Shelton Harbor Marina, all using data and permitting guidance provided by WSG. Hama Hama is also participating in Sea Grant-funded collaborative research with NOAA, using underwater cameras to capture information on shellfish habitat at high tide.
Elliott's Oyster House
1201 Alaskan Way, Pier 56
Seattle, WA 98101
Taylor Shellfish Oyster Bars
Melrose Location:
1521 Melrose Ave
Seattle, WA 98122
The Walrus and The Carpenter
4743 Ballard Ave NW
Seattle, WA 98107
What to Wear: Casual city wear
Contact: Teri King
Aquaculture and Marine Water Quality Specialist
Washington Sea Grant
University of Washington
PO Box 488, Shelton, WA 98584
360.432.3054
guatemal@uw.edu