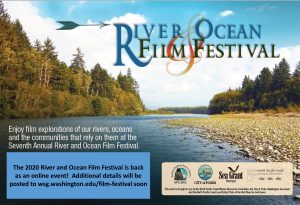 ITS BACK!  Seventh Annual River and Ocean Film Festival Will Be Presented Online
The 7th Annual River and Ocean Film Festival will be presented as an online event this year.  Starting in mid-September, three streaming episodes will be available for viewing from the comfort of your home, office, or anywhere you happen to be with your favorite internet-connected device.  As always, we will bring you a collection of short films that highlight the human and natural dimensions of the West End of the Olympic Peninsula.
Dates are:
Thursday September 17:   Episode 1
Thursday September 24:  Episode 2
Thursday October 1:  Episode 3
Check back here soon for more details!
See films from previous festivals here
Film Submissions Wanted!
Film submissions for the 2021 film festival are now being accepted. Films must be less than 20 minutes long, and relevant to the natural or social dimensions of the West End of the Olympic Peninsula. To submit a film, please contact Ian Miller at immiller@uw.edu or by phone at 360.417.6460.  
The River and Ocean Film Festival offers film explorations of our rivers and oceans that highlight the beauty and opportunity of this region, as well as some of the issues faced by its marine and freshwater habitats and the human community.  This event is brought to you by the North Pacific Coast Marine Resources Committee, the City of Forks, Washington Sea Grant, and the North Pacific Coast Lead Entity.