NOAA Science Camp is partnering with Atlantis STEAM to offer a new three-day NOAA Science Camp Remotely Operated Vehicle (ROV) mini-session geared to inspire middle school students in the STEM fields through hands-on learning. Workshop attendees will:
Create a mini-ROV capable of simple tasks
Learn concepts of buoyancy, thrust and electricity
Carry out the skills of soldering and piloting an ROV
Investigate robotics and its real-world applications
Tour NOAA labs to find out how NOAA engineers build instruments for collecting research data
Discover the diversity of NOAA careers and opportunities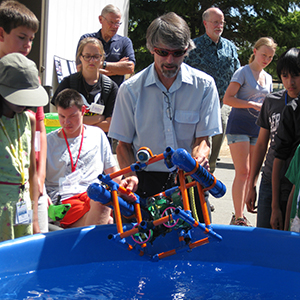 Location: NOAA Sandpoint Campus
Dates: July 23–25, 2018, 9:00 a.m.– 4:00 p.m.
Cost: $200 plus online registration fee. Scholarships are available.
The workshop is limited to 15-20 participants. For more information contact noaacamp@uw.edu.
Atlantis STEAM is an offshoot of the Atlantis ROV Team, a high school robotics team from South Whidbey Island dedicated to hands-on outreach, science education and encouraging gender equality in science, technology, engineering and math (STEM).