Workshop 1 – Washington Coast Shellfish Aquaculture Study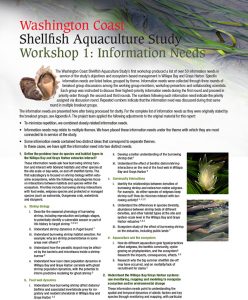 The goals of Workshop 1 were to: (1) advance a shared understanding among scientists, resource managers and shellfish farmers of how the ecosystems of Willapa Bay and Grays Harbor function, with particular attention to interactions among shellfish aquaculture, eelgrass and burrowing shrimp; and (2) identify and prioritize remaining information needs going forward.
Welcome - WA Coast Shellfish Aquaculture Study Workshop #1
Paul Dye, Russell Callender, and Jennifer Hennessey
Overview - WA Coast Shellfish Aquaculture Study Workshop #1
Viewing Willapa Bay and Grays Harbor as social-ecological systems
The influence of burrowing shrimp on estuarine ecosystems
Nearshore ecosystems: interactions of shellfish aquaculture with species and habitat
Bivalve filtration and carrying capacity
What's in the water and where does it go?
The effects of estuarine climate on Pacific oyster growth and condition in Willapa Bay
Burrowing shrimp population dynamics and the challenge of predicting an unpredictable future
Two perspectives on integrated management of burrowing shrimp: Applicable or not?
Burrowing shrimp management: A grower's perspective
Life history and ecology of burrowing shrimp in US Pacific coast estuaries
Prioritization of Needs Process
Jackson Blalock (presented at a webinar held on October 18, 2019)