WORKFORCE DEVELOPMENT
Sea School
An initiative to provide vocational training for maritime careers.
Principal Investigator
Brandi Bednarik, Grays Harbor Historical Seaport
Co-Principal Investigators
Caitlin Stanton, Operations Director, Grays Harbor Historical Seaport
Hali Boyd, Social Media Manager, Grays Harbor Historical Seaport
Sarah Herard, Pending co-investigator, Masters in Education in Training and Development Candidate (expected graduation from University of Michigan Dec. 2017), USCG Master 1600 Ton Oceans with STCW, sail-endorsed and AB Unlimited
Project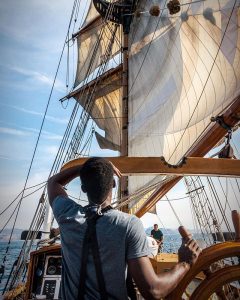 The Seafarer Collective (TSC) was created to provide a springboard for aspiring mariners into the industry. TSC seeks to directly support women, people of color, LGBTQ+ people, registered tribal members and Pacific Northwest coastal residents. By opening pathways into maritime fields to those who have traditionally not had access to these opportunities, TSC works to sustain and diversify the maritime workforce.
Read our feature story covering this project:
Read other articles covering this project:
Maritime jobs on tall ships are drawing more women and others seeking employment in non-traditional jobs
Research Updates
Background: With an aging workforce and limited paths for entry-level recruitment, accessible
entrance into Washington's maritime careers are needed. The existing workforce is homogenous,
with only two percent of the global industry identifying as female. Challenges to developing a
robust workforce are daunting, with many potential recruits unaware of opportunities in the
mariner industry.Washington Sea Grant supported The Seafarer Collective's (TSC) efforts to create
pathways into the industry and provide educational resources to women, LGBTQ+, people of
color, tribes and coastal residents. TSC developed six categories of education and engagement to
increase entry-level, diverse mariners: Online education curriculum, coaching, informal learning,
industry visibility and financial aid.
Results: Initially focusing on shipboard programming, TSC diversified to including online
education, career coaching, and mentorship which increased student success. TSC reached
140,200 people through outreach, such as digital open houses, industry events, and crew training.
Today, forty percent of TSC students report as female or non-binary; a broader range of ages are
engaged; ninety-eight percent of students receive financial support; and graduates saw up to a
320 percent increase in earned income after being hired with a USCG credential obtained while
participating in TSC. One graduate said, "…When I was ready to take the next step to earn my
credentials and move forward into the industry, TSC gave me the mentorship and financial
assistance I needed."
Recap: With funding from Washington Sea Grant, The Seafarer Collective created a dynamic
and equitable maritime education program attracting a diverse community of rising professional
mariners entering the workforce.