The Seafarer Collective provides accessible educational programs for aspiring mariners to sustain and diversify the maritime workforce
By Kathleen McKeegan, WSG Science Communications Fellow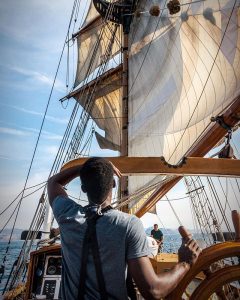 For Captain Halee Grimes, all it took was one look at an old wooden boat while she was in college. Since then, she has sailed the seas on several differently-rigged tall ships, like the kind you may associate with a certain Disney movie starring a bumbling but loveable antihero played by Johnny Depp. In fact, once Grimes landed in Grays Harbor, Washington, she quickly rose through the ranks from chief mate to captain of the Lady Washington, a ship that appeared in that very movie as the HMS Interceptor.
However, Captain Grimes, like many mariners, faced several roadblocks on her path to building a career in the maritime industry. One of the major barriers facing new mariners is the cost and accessibility of classes required to get crucial United States Coast Guard (USCG) certifications and licenses. For example, the classes, trainings and paperwork fees required to receive an Able Seaman Credential, one of the beginner-level licenses in the maritime industry, cost approximately $3,000 out-of-pocket — and that's disregarding the time required to complete the certification. "In the maritime industry, if you're not working, you're not getting paid," explained Grimes. "The cost for classes is tough, but you also have to take time off of work to do them." This means that many people who may be interested in a maritime career are essentially priced out of it.
A local program called The Seafarer Collective (TSC) aims to change this by making the industry easier to access. TSC is operated through the non-profit maritime organization Grays Harbor Historical Seaport (GHHS) and provides maritime learning platforms, career mentorship, USCG licensing support and crew volunteer opportunities to people from underrepresented populations who are interested in a career at sea. With the help of funding from the Magic Cabinet Foundation and Washington Sea Grant (WSG), TSC was able to begin operations in 2018 with a mission to change the face of the maritime industry.
The idea of TSC began after a few key discoveries. First, the Washington maritime industry is growing 6.4 percent annually, and yet the industry is struggling to recruit new workers. Second, the industry is very homogenous and male-dominated, with only two percent of the global maritime workforce identifying as female. According to the City of Seattle Office of Economic Development, over 90 percent of the Washington maritime industry is white male. Last, almost half of experienced tall ship sailors report that they are unable to afford the professional licensing that can propel them into higher-paying positions. Brandi Bednarik, the executive director of GHHS, noticed similar issues amongst her program and crew on the Lady Washington. "One of our biggest problems was a crew shortage," Brandi said. "We had to figure out how to be sustainable. That's where The Seafarer Collective was born." She and her colleagues at GHHS realized the need for new, accessible pathways into the maritime field in order to sustain and diversify the workforce.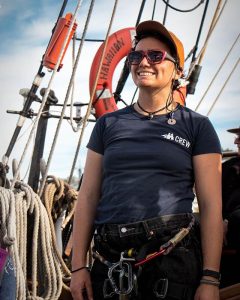 Originally called Sea School Northwest and later coined The Seafarer Collective, the program offers a variety of outreach and educational offerings that include self-paced online courses, community industry panels, vessel open houses, mariner mentorships, volunteer crew placement, and USCG endorsement and licensing support. With the funds from WSG, TSC was able to offer scholarships, grants, and free community events to support equal access to the maritime industry. In fact, Captain Halee Grimes was one of the scholarship recipients through TSC. "Halee's success is one of my favorite stories," Brandi said with a smile. "She had such quick upward mobility and grew into this really solid leader and captain. A lot of organizations don't get to see their direct impact, and it's pretty special."
In order to make the program easily accessible, TSC offers three self-paced, online courses that are designed to increase knowledge and understanding of the maritime industry. The Entry-Level Merchant Mariner course includes both an online portion and an in-person crew position aboard a GHHS vessel. The Able Bodied Seaman course is a USCG-approved online course that provides the training needed to receive an Able Seaman certification. The Recreational Marlinspike course allows any interested mariner a chance to learn the basics of tall ship sailing.
Unfortunately, the COVID-19 pandemic caused TSC to reduce operations for about a year. In 2020, only weekend sails were offered during the summer, and there was a significant reduction in crew and staff members. Currently, they are operating in a limited capacity, with only a few students in the Entry-Level Merchant Mariner course. TSC hopes to have everything back up and running by the beginning of 2022, COVID-dependent. "The stress of COVID impacted the people who worked here, and financially the first year was brutal," Brandi explained. "But we've learned a lot, and we will come out stronger."
With the funds from the WSG Program Development Award, TSC reached over 140,200 people through outreach and worked with over 70 students and grant awardees. Graduates saw up to a 320 percent increase in earned income after being hired with their USCG credential obtained while participating in TSC. Furthermore, the goal of TSC is to provide equal opportunity and a safe place for people to come and learn in the field. Today, 40 percent of TSC students identify as female or non-binary, and a large majority of the Lady Washington's crew identify as queer. As Captain Grimes explained, "This is a place where anyone can be and feel safe and supported."
WSG supports programs like TSC that aim to sustain and diversify the maritime workforce in order to ensure the future workforce is diverse and skilled in disciplines critical to coastal and ocean economies and ecosystem health. While TSC faced many unexpected challenges in its first few years, namely the global pandemic, it was able to push through and utilize the funding and support from WSG to implement a permanent and impactful program. "Without the funders, this program would not have been a thing," Brandi explained. "The Seafarer Collective was just a dream, and we were so excited and humbled to receive the funding to pilot something like this, something that has a direct impact on people's lives."
To learn more about TSC, visit their website at https://www.theseafarercollective.org/