Crab Team New Volunteer Training (Pouslbo)
March 12, 2018 @ 10:00 am

-

4:00 pm
This event is free, but registration is required.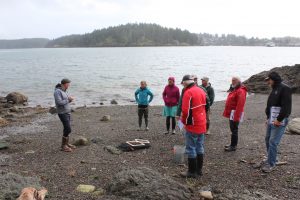 Interested in becoming a Crab Team volunteer monitor to help protect pocket estuaries in Washington's Salish Sea? This full-day training workshop will fully equip you to join Crab Team's "Boots in the Mud" – no prior experience necessary. The workshop will include:
An introduction to pocket estuaries and the invasion threat from European green crabs;
Learning and practicing the monitoring protocols;
Identification of pocket estuary critters;
More information: This year, Crab Team is recruiting a limited number of new volunteers to add to existing sites/teams, so we cannot guarantee that all new participants will be matched with a team. If you would like more information on where opportunities are available, please email crabteam@uw.edu. In addition, we welcome attendees who are just interested in finding out what citizen science is all about, you are under no obligation to join a team. We encourage you to contact us or read the Get Involved section of our website to find out what our volunteers do.
We will take a short break for lunch, but we recommend bringing a bagged lunch. Depending on weather, part of the training workshop might be conducted outside. Please come ready to spend up to an hour outside, including warm clothing and sturdy shoes.
Contact the Crab Team at crabteam@uw.edu if you have any questions. Visit the Crab Team site for more information.
This event is free, but registration is required.