Who Will Rescue the Rescuers?
Washington Sea Grant alerts the Coast Guard's first responders to the critical danger they will face when a tsunami strikes.
It was a crisp, bright autumn morning on the Strait of Juan de Fuca, but the news Ian Miller delivered wasn't so cheery. For years Miller, Washington Sea Grant's Port Angeles-based coastal hazards specialist, has investigated the traces of past tsunamis on the Olympic Peninsula and, together with other WSG staffers, shared the findings with those who live and work on Washington's vulnerable shores. Now he faced about 150 U.S. Coast Guard seamen and airmen mustered outside their headquarters at the tip of Ediz Hook, the three-mile sand spit that curves around Port Angeles's harbor, and delivered an urgent warning.

When a tsunami or other coastal disaster hits, the Coast Guard Air Station/Sector Field Office Port Angeles will have a life-and-death role to play. Its three helicopters provide air rescue for the entire Washington coast; its cutters and smaller boats form the waterborne safety net on the strait.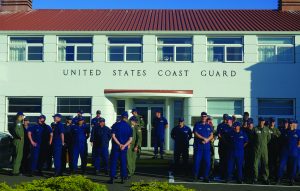 But as Miller explained, these saviors may be hard-pressed to save themselves. When the next Really Big One—an offshore earthquake along the Cascadia Subduction Zone—strikes, a wall of water could surge over Ediz Hook and other low-lying shores in as little as 45 minutes. The hundreds of people who work on the Hook long assumed they would escape the same way they come to work each morning: by driving out on the Hook's only road. Don't count on it, said Miller, who has a geomorphology background as well as a doctorate in oceanography: "You guys can't assume you will be able to drive off."
Even if that two-lane road doesn't buckle or sink, anyone fleeing must get through the 96-year-old Nippon Paper mill at the spit's base. Its high masonry walls, power lines, and fuel tanks line the roadway like a gauntlet; a metal causeway hangs above it; the loose sand and gravel below will turn to something like jelly. "The road off the hook might"—Miller phrased it gently — "be impassable. The way to survive might be a little counterintuitive. It might be going out to deeper water." Afterward, Lieutenant Kyle Cuttie, the base's security officer, mused on the implications: "We're probably one of the worst-exposed sites on the entire West Coast."
Cuttie gets support in that view from Eric vonBrandenfels, the vice president of the Puget Sound Pilots, 52 elite mariners who guide the big ships that sail in and out of Puget Sound. Their base, three-quarters of a mile from the Coast Guard's, will suffer the same devastation when a tsunami strikes.
VonBrandenfels got the message when Miller gave a similar talk to the pilots in late 2014. "It rattled everybody a lot," he says. "I'm just a pilot. When I talk about this stuff, people look at each other and think, 'Is this guy crazy?' But when Ian tells them, they listen. He's got the science, and the science is irrefutable."
Until Miller's talk the pilots, like the Coasties, had expected to escape the usual way. "We keep training people to run to higher ground," says Jamye Wisecup, Clallam County's emergency management coordinator. "We always expect to evacuate by land." Miller explained why that was unlikely — and why, if they could just get out to open water 50 fathoms deep, the tsunami swell would pass gently under them. Nudged by vonBrandenfels, the pilots began planning a water escape.
Easier for them than for their Coast Guard neighbors. The pilots' two 70-foot boats stand ready 24–7 to meet incoming ships, whereas the Coast Guard's larger cutters would take too long to launch. Even so, when the pilots conducted their first trial, last March, "It took us two hours to get loaded and off," says vonBrandenfels. "At that point we'd be under 30 feet of water."
The pilots continued planning and invited the Coast Guard to join in. By September they were ready to undertake their first small-scale joint drill.
Lacking better options, the Coasties and anyone else on the spit would probably look to the pilots for rescue. VonBrandenfels figures the pilots might be able to pack 50 on each boat's deck and another 25 to 50 below. That falls short of the Coast Guard station's total staff, about 300, and makes no allowance for the water and food they would need should all shore stores be destroyed — never mind Coast Guard-required lifejackets.
After Miller spoke a small contingent trekked down to the pilots' dock, boarded, and cast off. They rounded the hook and reached 50 fathoms in 16 minutes — promising, but no assurance that a larger contingent could board and flee fast enough amidst post-earthquake chaos.
The safest solution would be to relocate all the airbase operations that don't need to be on the water to higher ground near the Port Angeles Airport, nearly 300 feet above sea level. But that would mean conflicts with residents over helicopter noise, says Lieutenant Cuttie. And the Coast Guard may be loath to abandon the historic vintage base, whose buildings date to 1935. "This is the oldest continuously operating air station in the Coast Guard," says Cuttie. President Abraham Lincoln commissioned the original customs office there.
Far from vacating, the base is slated to grow. The U.S. Navy proposes to build a pier for nine vessels, each up to 250 feet long, to escort its Trident nuclear submarines. Will that mean more boats at the ready, or yet more personnel to evacuate? Miller has submitted comments on the Navy's proposal explaining the tsunami risk.
Before the drill, Miller told the mustered Coasties he had a personal stake in their fate: "I live in Port Angeles. I want you guys to be safe. More important, I want you to be functional so you can save me and my family."