October 2, 2021
By James Lee, Science Communications Fellow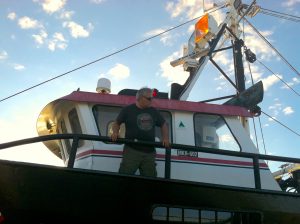 Dave Sones is a fisherman and a member of the Makah Nation at Neah Bay. He's been fishing since 1972, when he was 12 years old. As a young man, he worked at the Ozette Archaeological Site as an interpreter; later, he became fisheries manager and natural resources director for the Nation, holding those titles from 1982 to 2002. During most of that time, however, Dave maintained a boat for fishing:
"In 1985 I got a little Boston Whaler hand gurdy, and I'd use my weekends and my two weeks of vacation time every year to go fishing in it," Dave said. "Then in 1988 I got a 26-foot Shamrock power gurdy for fishing salmon. I still have the Shamrock! Could never get rid of that boat. I got the Crysan (pronounced "Chris-Anne"), my 74-foot trawler, in 2006."
Dave's been a full-time fisherman since 2006. He loves to fish salmon by rod and reel, but his work takes place in all fisheries, and he seeks out all sorts of bottom fish with Crysan. "For me, the best season and the time in which I get the best catches are from May to August."
However, the Makah Nation, like other Native nations along the coast, shut their borders down completely this year to protect their communities from COVID-19. The Tribal Council also initially closed down both commercial and sport fishing. "It's been like a ghost town down here," says Dave. "There were concerns with households mixing and spreading the virus between them, so we've been under a stay-at-home order. It's a surreal kind of feeling to be stuck at home and unable to fish."
More recently, Dave and others were able to do testing to open troll fishing, and then trawling. Because there are less boats on the water, Dave says that the boats that are out there have to poke around much longer and look much harder for fish, running from one place to another throughout the day:
"In one day, I can get around our usual and accustomed fishing grounds on the ocean and see what's there. I try not to tow for too long, usually for only 15 to 20 minutes, and generally only two hours maximum. For trawling you usually need a four-man crew, but for social distancing purposes we've been having crews of three, which means we need to do smaller, shorter tows and catch less fish at a time in order to maintain quality. Keeping it short means our target species as well as the bycatch species live longer. If you tow for shorter periods of time you're able to maintain a better quality of fish."
The virus has therefore had a very obvious impact on commercial fishers in the Makah Nation. The Tribal Council still has the reservation closed, but they are allowing several of the fisheries to go forward, and Dave was able to get back in the lineup recently.
After he's done fishing, Dave takes his catch to Bellingham so that he can sell it to Bornstein Seafoods. They want as much fresh product as he can sell them, but COVID-19 has definitely affected prices. "In particular, petrale sole is more of a restaurant species, so the drop in restaurant demand really impacted the price. However, even though the prices are still low they're still worth getting my gear together and going out on my boat. I'm currently targeting petrale sole, flounder, true cod and yellow tail rockfish."
Besides fishing, Dave has years of experience in resource management. As the natural resources director for the Makah, Dave didn't just work to protect the Nation's fisheries; his purview included maintaining the forests and other natural assets. According to Dave, during his early years as the natural resources director, "There were so many fisheries and environmental policy advances happening in Washington State that we followed along and implemented similar policies here at the reservation. Before self-governance, our resources were managed by the Bureau of Indian Affairs and not by the Makah, and there was no such thing as riparian zones or salmon habitat restoration. We also didn't realize at first how big a problem the construction of logging roads was for salmon streams, and we put in a lot of work to make sure that roads were built in a better way, like using higher quality gravels and ensuring that they wouldn't discharge silt into the rivers. All these things came up during that time, and it was good for the Tribe to have a top person in charge who could get people from different departments, like fisheries and forestry, working together."
Besides his past work for the Makah Nation, Dave's experience in management and policy comes from his service on bodies like the Pacific Salmon Commission, where he served for three years, and the Pacific Fishery Management Council, where he served for nine years. "It was really gratifying to serve on those bodies and to have the payoff of seeing a lot of fisheries resources get rebuilt in the late 2000s. For example, rockfish and flounder populations had gotten hammered by overfishing in the late 1980s and early 1990s, which was also when the Tribe was initiating our trawl fishery. Now that the resources are rebuilt the market needs to be revived. There is always a demand for fish like salmon, halibut, and black cod, but for species like rockfish and flounder it's a different story."
As part of his work as natural resources director for the Makah, Dave was one of the Tribe's delegates to the International Whaling Commission, and he worked hard to revive the Makah's traditional whaling practices. "It was really important for us to bring that back into our culture and to be able to exercise our treaty rights. Hunting marine mammals like whales and harbor seals is a huge part of our culture."
The Makah encountered an intense level of resistance to their efforts to resume whaling, to the point that some of the Makah were frightened by threats of violence, including from signs and bumper stickers that said things like, "Save the Whales and Kill the Makah." According to Dave, "Interestingly, the non-Tribal hunters and fishermen whom we usually butted heads with were really supportive, whereas the environmentalists who generally supported our other struggles opposed us strongly. This was similar to the experience of many Alaska Native communities when they've tried to exercise their rights to hunt marine mammals. It really drove home the fact that there was a lack of understanding and respect for Indigenous peoples, our culture and our rights, and it taught many of us to be less trusting.
"At the same time, the whaling issue taught us what it's like to come up against cultural resistance and how to work with that. It taught us that the public's view of an issue is really important, even if our rights are not and should not be a case for the public to decide. So we fought hard on the public relations side to get people to understand. We kept our message positive. We pointed out that whaling would be good for our communities, that it would serve as a powerful tool to help our youth avoid the use and abuse of drugs and alcohol because of how important it was to be super conditioned and mentally strong to do the work of a whaler before modern weaponry. That became an important part of what we were trying to teach our younger people, that whalers were so highly looked upon for their strength and knowledge. We knew that using whaling to teach them to maintain that strength and purity would be good for our nation."
Dave says that those were crazy times. "We were flying out to Monaco to a resort on the Mediterranean to petition the International Whaling Commission. We had to talk to people like Paul Watson of Sea Shepherd, who once said to me that if the Makah could get through the Commission and obtain a quota for whaling that Sea Shepherd would have to abide by that. Well, we did eventually get a five-year quota! It was like winning the Superbowl.
"Since getting out of Tribal government, I haven't really followed any recent developments on the issue. But it was exciting to be a part of that history back then. I really do look back on that time fondly."
But although there are some ways in which Indigenous rights are being given more respect and some ways in which life has improved for Native peoples, Dave says there is absolutely far more work to be done. "Being Indigenous people means being directly dependent on natural resources, which are all under threat. We're being hit at all angles, from climate change to development that destroys salmon habitat. It always worries me, but you can't give up, and you have to keep pushing forward. I really think that since Black Lives Matter came back to the forefront of public consciousness, people are more sensitive to what Indigenous rights and treaty rights are and what they represent. It's hopefully going to help educate people."
As for fishing, Dave is glad to be back out on the water this year: "I was going crazy being stuck inside because I just love what I do. Don't forget, as fishermen we provide food to people, just like farmers. The ocean is the world's biggest farm, and as long as we take care of it, it's a massive renewable resource that provides for us all. So that always feels good. But more importantly, it felt so good to get back out there because fishing brings me back to my culture and makes me feel connected with my ancestors and my past. That's the best part of fishing for me, experiencing that connection."