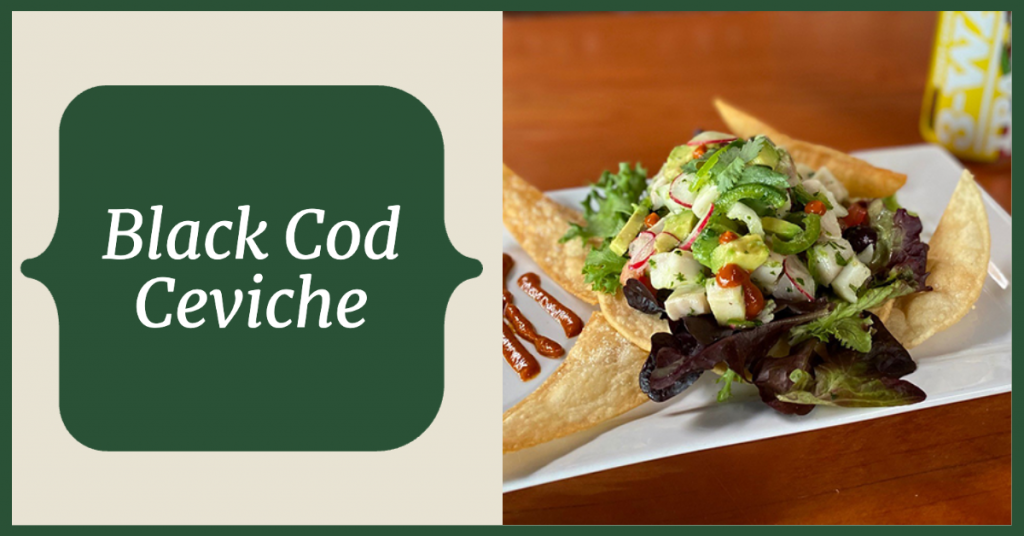 June 23, 2023
By Katalin Plummer, WSG Graduate Science Communications Fellow
When it's as hot out as it is today, the last thing most of us want to do is turn on the stove. This week on our #DiscoverWestCoastSeafood recipe series, you don't have to! We're sharing a black cod ceviche recipe, courtesy of Oregon Sea Grant. This recipe features the fresh flavors of summer: herby cilantro, salty olives, and creamy avocado. Pair this light meal with a local craft beer, and you have a fantastic dinner for a summer evening!
You can also check out the Oregon Sea Grant website and the rest of the Discover West Coast Seafood Series for more sustainable seafood recipes.
Ingredients 
1 lb black cod, skinned, ½-inch dice
1.5 cup lime juice
1 cup Maui or Vidalia onion, ½-inch dice
2 medium Roma tomatoes, deseeded, ½-inch dice
1–2 jalapeños, seeded, finely chopped
⅓ cup cilantro minced (save some for garnish)
⅓ cup Spanish olives, roughly chopped
1 tablespoon extra virgin olive oil
Kosher or sea salt to taste
1.5 tbsp orange juice
2 tbsp beer (preferably IPA)
½ tsp sugar
1 large avocado, diced
Fried tortillas or tortilla chips for serving
Instructions
Add cod to a bowl with the diced onion. Add lime juice to cover. Refrigerate till fish is "cooked" (about 4 hours). Drain lime juice off in a strainer.
Mix tomatoes, jalapeño, minced cilantro, olives, and olive oil in a bowl. Stir in the fish and onion. Season to taste with salt. Add the orange juice and beer (and sugar if needed).
Just before serving, gently fold in the avocado. Garnish with cilantro leaves and enjoy.
###
Washington Sea Grant, based at the University of Washington, helps people and marine life thrive through research, technical expertise and education supporting the responsible use and conservation of coastal ecosystems. The National Sea Grant College Program is part of the National Oceanic and Atmospheric Administration, U.S. Department of Commerce.
Join the conversation: @WASeaGrant and Facebook.com/WaSeaGrant.