New tsunami hazard maps show how a Cascadia megaquake could impact Puget Sound
June 22, 2021
By Kathleen McKeegan, WSG Science Communications Fellow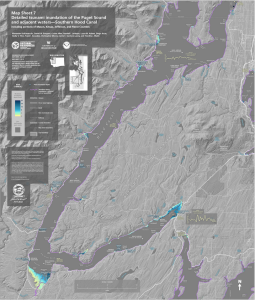 It's not a matter of if, but when. New tsunami hazard maps published by the Washington Geological Survey and the Washington State Department of Natural Resources (DNR) show that a large earthquake on the Cascadia subduction zone (CSZ) off the Washington coast could cause a tsunami that will not only reach the Puget Sound and Hood Canal, but will leave some low-lying areas under 14 feet of water. 
The tsunami models and high resolution base maps used to make these new tsunami hazard maps predict tsunami inundation along Puget Sound shorelines from a magnitude 9 earthquake on the CSZ. A decade ago, most thought that Puget Sound would be safe from Cascadia tsunamis. However, these new hazard maps show that not only can Cascadia tsunamis make it into Puget Sound, but some areas will have onshore inundation. These maps, which identify "hot spots" for such tsunami hazards, can be used as a tool to inform emergency planning and evacuation routes in the event of a Cascadia earthquake. 
"People didn't really think that [a Cascadia tsunami in Puget Sound] was something we needed to worry about," Carrie Garrison-Laney, Washington Sea Grant tsunami hazards specialist, explains. Garrison-Laney is a contributor to the tsunami hazards report and shared geological evidence of past tsunamis near Belfair in Hood Canal. "These maps are causing excitement because they cover areas that have not been studied before." Previous tsunami hazard maps in Puget Sound were limited and modeled the effects of tsunamis caused by local earthquakes from faults much closer to home, like the Seattle fault.
Producing these maps involved many years of collaboration between several different agencies, including the National Oceanic and Atmospheric Administration Center for Tsunami Research at the Pacific Marine Environmental Laboratory, a group of modelers from the University of Washington, and the Washington Geological Survey, part of the Washington Department of Natural Resources. Modeling capabilities have greatly improved in recent years, thanks to better computing power and the higher resolution maps used in modeling, otherwise known as Digital Elevation Models (DEMs). "Tsunami models use offshore bathymetry and onshore topography to model what the wave does as it moves from the marine environment onto land," Garrison-Laney explains. "The better the DEM, the more confident you can be in the model results " 
The new models and maps show how, in some hot spots, a tsunami could cause inundation and dangerous currents in inland areas. The Port of Tacoma may see depths of 3.5 feet. Seattle's Harbor Island could be inundated up to 4 feet. One major hotspot is Belfair, located at the tip of the Hood Canal, which could see up to 14 feet of water. However, it's not just the inundation that we need to worry about. A Cascadia event could cause dangerous currents in Puget Sound, reaching speeds up to 9 knots in the Agate Passage north of Bainbridge Island and 6 knots off of Discovery Park in Seattle.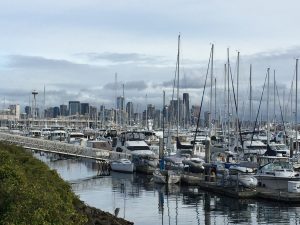 These maps are based on only one Cascadia scenario. There are other tsunami scenarios that are not accounted for in these maps, such as tsunamis caused by landslides or local earthquakes on the Seattle fault. However, the models provide a better indication of which areas in Puget Sound are likely to have tsunami flooding and can be used as a tool to inform decisions around emergency preparedness. "I don't live in the tsunami inundation zone, but when I go stay somewhere out on the coast, it's always on my mind," admits Garrison-Laney. "It's a real hazard. The big tsunami events in 2004 in the Indian Ocean and in 2011 in Japan really woke people up. It was a shocking reminder of what we might face here."