November 8, 2021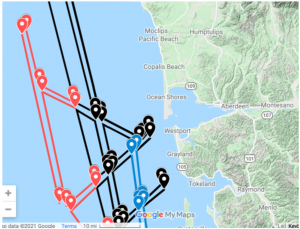 Coastal Washington — This year marks the 50th anniversary of a little-known, but highly successful mariner's agreement known as the "Crabber/Towboat Lane Agreement," providing a positive example of what can be accomplished between disparate groups when both parties are committed to finding common ground. 
In the 1970s, conflicts between oceangoing tugs and commercial crabbers became a major problem in Washington, Oregon and California. Crab pots fouled tugs as they moved between coastal ports, and the loss of crabbing gear created severe hardships for commercial crabbers. From 1971, Sea Grant programs on the West Coast began brokering an agreement that provided navigable towboat and barge "lanes" through the crabbing grounds between Cape Flattery, Washington and San Francisco.
Washington Sea Grant, based at the University of Washington, has led this process since the early 1990s, maintaining the industries' cooperation and saving crabbers and towboats more than $1 million annually by avoiding gear and vessel losses. Washington Sea Grant holds several negotiations each year, and in recent years improved electronic towlane charts, published visually enhanced charts and a Google map webpage for easy digital access and evaluated the agreement's economic impacts in Washington State.
Washington Sea Grant Director, Russell Callendar comments that, "Not only is the 50-year-old agreement represent one of the earliest coastal marine spatial plans in the U.S., it also represents a rare partnership developed cooperatively between two disparate industries vying for the same space to work on the ocean."
The crabber/towlanes have worked well in part because the parties have consistently implemented the MURT principle – Mutual Understanding Respect and Trust, where the needs of the partners are accommodated without compromising each other's values. For example, when the price of fuel went up, the crab fleet responded by opening the inside tow lanes a month earlier in the springtime to help save money on fuel bills for the towboat industry. In another example, when the 1994 Rafeedie Decision was delivered and the crab fleet lost access to certain fishing areas, the towboat representatives responded by narrowing the tow lanes from 2 to 1 mile wide lanes to help the crab fleet recover some fishing grounds. Throughout these negotiations and adjustments, Washington Sea Grant has served as a neutral broker, providing the data and communication tools needed while helping to create solutions. 
Ongoing, Washington Sea Grant is facilitating discussions between industry and the National Weather Service and U.S. Coast Guard to improve marine weather forecasting and coastal bar-closure policies. Crabber and crab boat owner Dale Beasley comments that over the years, "Both the crab fleet and the towboat operators have cooperated to improve weather forecasting tools so that our forecasts improved dramatically on incoming weather front timing.  As an example, the advent of the Langley Hill Doppler Radar was not only a great weather tool, but it was useful as an oil spill prevention tool as well. " 
The cover of the first towlane booklet, dating 25 years ago says it best: "A place to fish, a place to tow.  Where all mariners benefit, there are no losers in the crabber-towlane world."