November 18, 2019
Northwest Maritime Center receives grant for Puget Sound Fiberglass Boat Recycling plan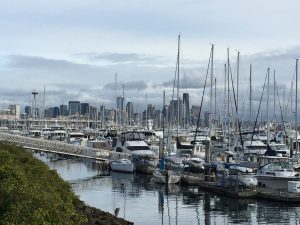 Beginning in the 1960's, fiberglass became a prominent material for ship building. Durable and relatively low maintenance, fiberglass became the choice material for vessel owners. But as these vessels begin to come to the end of their lifespan, a question comes up: what should we do with the waste created by these millions of vessels?
Inspired by wind farm blade recycling in Germany, a program to recycle fiberglass vessels into fuel for concrete was successfully implemented by the Rhode Island Sea Grant and the Rhode Island Marine Trades Association. Now, with funding from Washington Sea Grant (WSG), the Northwest Maritime Center (NWMC) in Port Townsend, Washington is working to understand the scope of the local fiberglass conundrum — and to follow Rhode Island's lead in finding a way to solve it.
There are an estimated 170,000 fiberglass vessels within Washington — 68 percent of all registered boats statewide. Their popularity means fiberglass boats are a large source of waste, and Washington landfills receive 2 million pounds of it each year.
NWMC figured that there had to be a better way. "We saw a need to model innovative ways to care for the waters around us so future generations have the opportunity to learn seamanship and enjoy their own maritime experiences in a beautiful environment, says Heidi Eisenhour, NWMC chief operation officer. "And we believe it will create jobs in rural areas too!"      
As a first step to creating a recycling program, NWMC is reaching out to Washington ports to gain a better understanding of interest in the program. Eisenhour says outreach has been well underway with interest from 10 ports so far, including Everett, Edmonds and Port Townsend. NWMC has been preparing a survey to send to all Washington ports in November that will provide further information on the specific needs for the program. With promising interest, the NWMC will be able to provide an opportunity to combat fiberglass waste, contribute to a sustainable solution, and help protect Puget Sound waters.
"We are excited to team up with Washington Sea Grant to lead the way in creating a smart plan for end-of-life boats in our region," says Jake Beattie, NWMC executive director. "At the end of this we'll understand the scale of the problem and have a plan for how to make use of the boats headed for the landfill. Sounds like a win-win to me."