October 28, 2022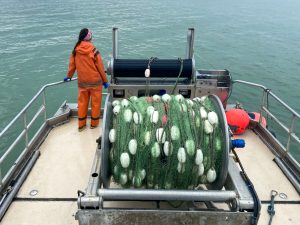 It was time to stop fishing for the day in Naknek, Bristol Bay. Just like every day of their summer season, the 32' drift boat pulled into line to deliver their day's catch of sockeye salmon to a tender – a bigger vessel that then brings the harvested fish to the processors on land.
In bright orange rain gear, Washington Sea Grant's Fisheries Specialist Jenna Keeton joined her fellow deckhands in a collective sigh of relief.
"Knowing the hard work is over for the day brings a shared camaraderie," Keeton said. "You look around at people on other boats, and see how exhausted they are. You also feel exhausted but very accomplished."
Her relationship with Bristol Bay goes back to her undergraduate years at the University of Washington, when she spent a few summers as a field technician with the Alaska Salmon Program.
As a technician, she'd survey spawning salmon in headwater streams of the Wood River system that flows into Bristol Bay. Alongside professors and researchers, Keeton lived in a backcountry cabin and Keeton was able to see, first-hand, the complex watershed characteristics that make up pristine sockeye salmon spawning habitat.
Then, Keeton decided she wanted to try working on the downstream side of the watershed, harvesting the fish she once studied in their natal spawning streams.
"Bristol Bay is an example of how humans and the natural system can work in tandem in the commercial sockeye salmon fishery, due to high-quality fisheries management, in-tact spawning habitat and favorable ocean conditions. Of course, Alaska Natives have harvested sockeye sustainably since time immemorial," Keeton said.
"I knew the scientific questions driving current fisheries research in Bristol Bay, and I wanted to participate in the modern economic driver of the Bay: commercial fishing."
For the last two summers, Keeton worked as a deckhand, hand-picking sockeye salmon out of a gillnet. Doing the hard work of fishermen is part of how she better understands ways to better serve them as an outreach specialist.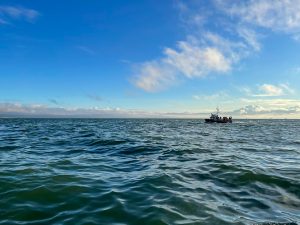 At Washington Sea Grant, Keeton works to strengthen networks among sustainable commercial fisheries management, seafood harvesters, processors, and consumers.
Specifically, she strives to support commercial fishermen in developing economic resiliency and coordinates career development workshops to encourage the next generation of the commercial fishing fleet.
Washington Sea Grant's West Coast Seafood Marketing project is an example of one campaign that is helping to build a stronger local seafood system in Washington state. Through targeted outreach and research, Keeton and partners like the Washington Department of Fish and Wildlife, are trying to raise consumer awareness of seafood caught, processed and/or sold in Washington.
"My experience in commercial fishing directly informs how I want to promote the commercial fishing fleet in Washington and Alaska and make it more accessible to people who may not have any existing connections to commercial fishing," Keeton said.
In the coming months, Keeton and her WSG colleagues Sarah Fisken, Teri King and MaryAnn Wagner are wrapping up a seafood market research project that will inform and shape a summer communications campaign spanning the West Coast in 2023, along with a direct marketing needs assessment study, and new tools and guidelines for helping fishermen market their product directly to Washingtonians.
If you have a question about sustainable fisheries, the seafood industry, or fish ecology you can contact Keeton at keetonj@uw.edu or 206-543-7009.