January 13, 2021
By Grace Freeman, WSG Science Communications Fellow
As Bellingham SeaFeast director Liz Purdy was gearing up for the 2020 festival scheduled for September, it quickly became clear that this year's event would be different. Founded in 2016, SeaFeast is an annual seafood-focused event that brings together industry professionals, educational booths, food trucks, and live music for a weekend to celebrate the working harbor and fishing industry in Bellingham, Washington. When the pandemic made the usual large-scale gathering impossible, Purdy and parters at the Port of Bellingham and Working Waterfront Coalition of Whatcom County pivoted hard and fast. Thus, Bellingham Dockside Market was born.
The first Dockside Market, held in October 2020, was designed to appeal to customers who want to support their local fishermen by purchasing quality seafood directly from the source. Unable to sell to restaurants during this year's lockdowns, vendors were eager to sell in a public forum. Some brought coolers, bins, and what looked like laundry baskets full of crabs. Others passed their catch over the rails of their commercial fishing vessels directly into the hands that will prepare and eat the seafood.
Many within Bellingham's waterfront community had been discussing the idea of a seafood market for years, but the events of 2020 were the push it needed to get going. And get going it did! The first market, which drew an estimated 500 patrons to the dock, foreshadowed the success of the program and encou raged organizers to continue holding markets into 2021. "This fall [October­–December] was the pilot period to see if the idea would work," Purdy told me when I visited the market earlier this month. She chuckled as she gestured to dozens of patrons at the market on a Tuesday: "It's been a huge success."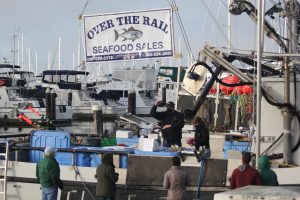 For many of the fishers, this was their first time selling directly to consumers—and both parties loved it. Michael "MJ" Jackson of Fall Line Fisheries usually sells sockeye salmon from Bristol Bay, Alaska through community supported fisheries (CSFs) but says that Dockside was his first public presence. He was not shy to tell me about his product: "It's the best tasting fish in the world, and that's because of how we treat them from the moment they're caught." Aboard the Fall Line vessel, fish come down a slide to keep them off the deck. Then the fish float in tanks of near-frozen seawater until they're brought to shore, where the fish are fileted, frozen and vacuum sealed all within hours of being caught.
The products found at Dockside are not only high quality and sustainably sourced, they also often come with instructions straight from the experts. "Around seventy percent of all seafood in the U.S. is consumed in restaurants," Purdy explained. "It can be intimidating to prepare at home." To help remove this barrier, Jackson and other vendors han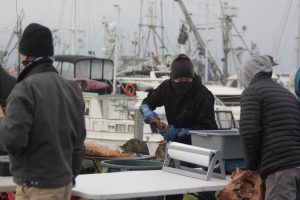 d out recipe cards, give recommendations, and explain preparation. Ficus Chan, owner of Crab Bellingham, patiently explains to anyone who asks exactly where to cut and crack to most easily extract the meat of his Dungeness crabs. Customers can even buy shucking knives with their fresh oysters from Drayton Harbor Oyster Company. The vendors hope that educating customers can help foster a future relationship between fishermen and home chefs.
While the future of the Dockside Market is still taking shape, the success of this past fall has been encouraging. The SeaFeast organizers plan to continue holding markets for the foreseeable future, with the goal of holding two markets a month. Unlike a more traditional farmer's market, though, the scheduling of these sales will be variable. "Sometimes our vendors will be at sea or need some time for vessel maintenance. Everything will need to be flexible," Purdy explained. This means potential customers will have to check the website, social media, or subscribe to their email list to stay in the know.
The supply and product availability will be flexible too. Depending on the season and which vendors are present, customers may find seafood chowder, side-stripe shrimp, live crabs, oysters, black cod, albacore tuna, and nearly every kind of fresh, frozen or smoked salmon the Pacific has to offer. One customer told me that he doesn't bother to check what will be available at the Dockside Market before going. "I'm just here for some good seafood," he said. Based on the mask-clad shoppers already queuing with coolers and totes in hand before the sale even began, it was clear he was not the only one. This Covid-driven pivot is popular with fishermen and seafood lovers alike.