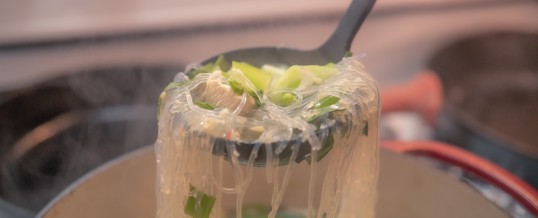 By Bobbie Buzzell, WSG Science Communications Fellow
Given the success of the kelp aquaculture webinar last month, we decided to take to the kitchen last weekend and test out a kelp noodle recipe.
Kelp noodles can be a struggle to find, and there are not many brands currently offered at local grocery stores. I was able to find Sea Tangle Noodle Company's Kelp Noodles at Haggen. At first glance, they look like a food you would use for a Halloween gag — but rest assured, this translucent pasta is versatile, delicious and quick to make. Try this "Ginger Chicken Kelp Soup" next time you stumble upon kelp noodles on a grocery trip. Although kelp noodles do not have much flavor themselves, they are transformed by the ginger and garlic base. Tossing in the chicken and veggies makes this recipe even more healthful. The combination will make you tilt your bowl back for sure!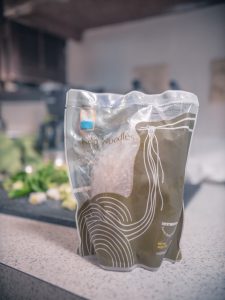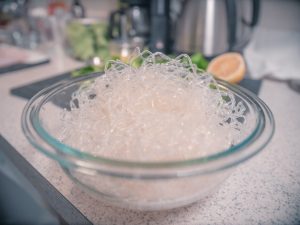 Ginger Chicken Kelp Soup (Makes 3-4 servings)
8 cups boiling water
3 tablespoon chicken bouillon powder or 3 cubes of chicken bouillon
4 cloves garlic, finely minced by hand or in food processor
1 tablespoon fresh ginger, grated or quick mince in the food processor
1 tablespoon lemon juice
Salt to taste
2-3 chicken breast, chopped – yield: 2 cups
4 cups baby bok choy, chopped
6 green onions, chopped
1 teaspoon lemon zest, grated
1 package (12 oz.) of kelp noodles
Optional:
1 tablespoon coconut oil
½ cup fresh cilantro, minced
After prepping all ingredients, I combined the bouillon cubes, garlic, ginger, lemon juice in the large pot of boiling water. I finished chopping the vegetables while I let the broth simmer and steep the flavor.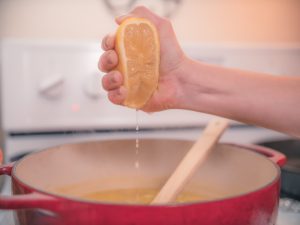 After a few minutes I gave the broth a taste. Here I added salt, starting with a tablespoon and gradually adding from there (keep in mind the broth will taste saltier as it cools). With the water boiling, I added the chopped chicken.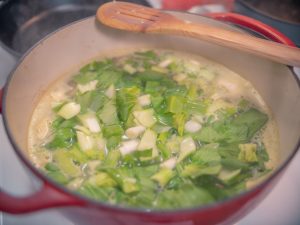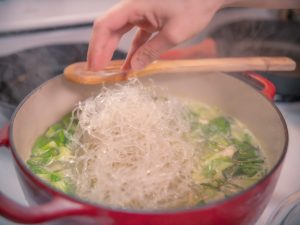 After 10 minutes, or when the chicken was fully cooked, I tossed in the baby bok choy, green onions, lemon zest and kelp noodles. I let the soup simmer for another few minutes, but not so long as to overcook the vegetables. Serve!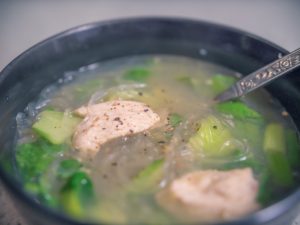 Although I did not use coconut oil and cilantro when I made this recipe, it was suggested in the original by Leanne Vogel which you can find here: Ginger Chicken Kelp Soup
Feel free to add in or take out vegetables of your choice. Some vegetables I may try in the future include carrots, cabbage and celery.
Photo credits: Edward Hayes