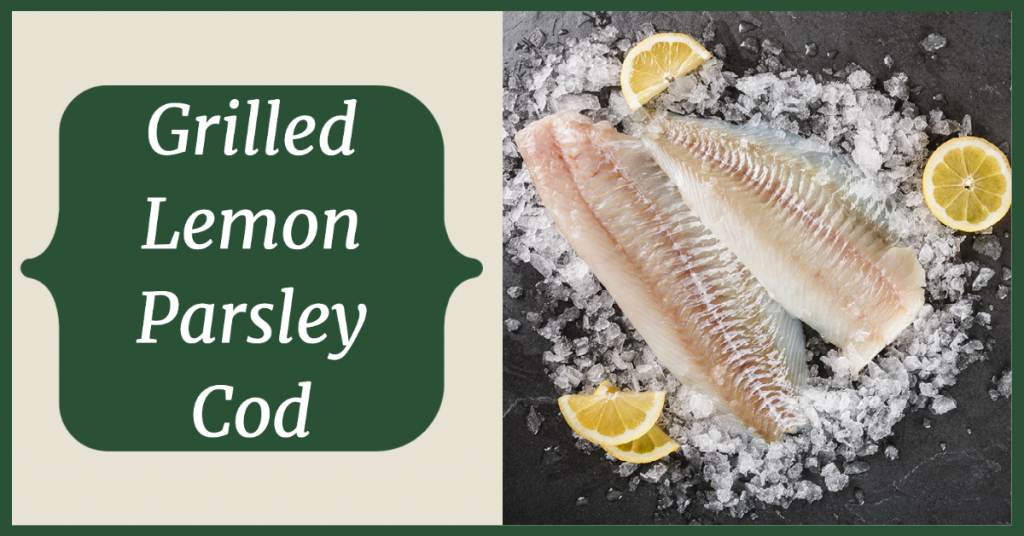 October 4, 2021
By Lucia Davids, WSG Student Assistant 
This week for National Seafood Month, we'll be indulging in grilled lemon parsley cod. Pacific cod in particular is a good sustainable seafood choice at the moment, especially cod certified by the Marine Stewardship Council. As a preparation consideration, let it be noted that I will be using foil packets for the fish today and slight alterations to cook time will be necessary if you prefer to grill directly on your coals or grill irons.
Ingredients:
4 tablespoons lemon juice

2 tablespoons unsalted butter

½ teaspoon kosher salt

¼ teaspoon paprika

¼ teaspoon lemon-pepper seasoning

4 cod fillets

2 tablespoons minced fresh parsley

2 teaspoons grated lemon zest—

2 cups cilantro

2 cloves garlic

2 tablespoons extra virgin olive oil

1 teaspoon chili powder

½ teaspoon oregano, dried or 2 tsp fresh oregano

¼ teaspoon salt

1 cup nonfat plain greek yogurt
Instructions:
Prepare your grill according to its preferences and preheat to medium-high heat.

Pat cod pieces dry and season your fillets with you own choice of herbs. I'll be using salt, lemon-pepper seasoning and paprika here.

In a small saucepan or the microwave, melt your butter then stir in 2 tablespoons lemon juice.

Place each piece of cod in the center of your foil packet and brush both sides of the fillets generously  with the lemon butter mixture. Fold up the edges of your foil to seal the packet.

For your sauce, you will need a small food processor. Place cilantro and garlic into the processor and pulse until your garlic is minced. Add the remaining two tablespoons lemon juice, olive oil, parsley, chili powder, oregano and salt and pulse again to combine.
Next, add your yogurt and blend until the mixture is smooth. Add additional seasonings as needed for desired taste. This can go in your refrigerator until you fish is ready to serve.
Place your cod foil packets onto the grill and cook for approximately 8-10 minutes or until the fish is fully cooked through (you may need to cook longer for thicker pieces). No need to flip the fish if using foil packets.
Remove your cod from the grill and serve topped with your sauce and an extra sprinkle of herbs.
Enjoy!

 
Recipe credit primarily to the WellPlated. Slight adaptions for food preferences were made.