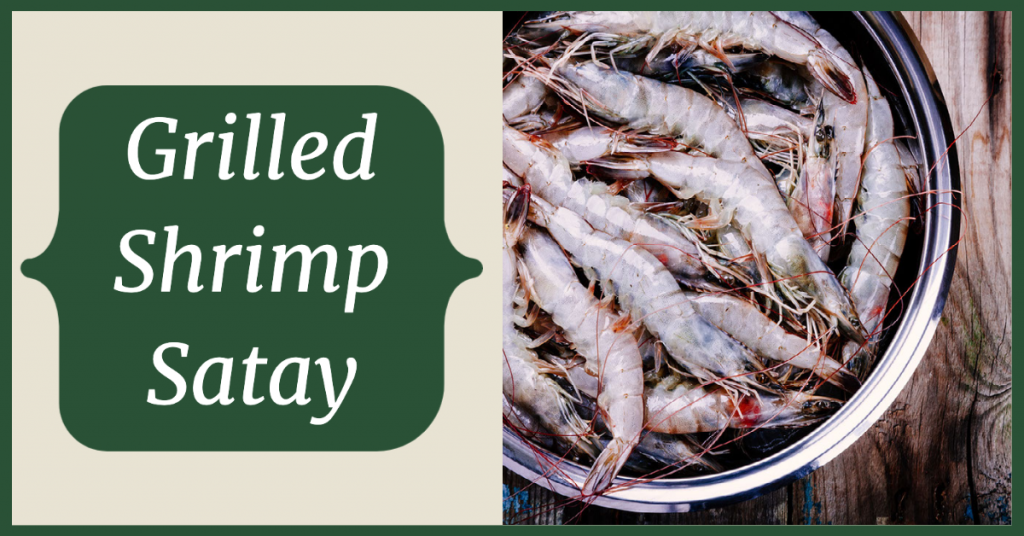 October 11, 2021
By Lucia Davids, WSG Student Assistant 
This week's feature for National Seafood Month is grilled shrimp satay. If you're looking to keep things as sustainable as possible in your kitchen, Oregon pink shrimp is highly recommended. As a preparation consideration, let it be noted that I used foil packets for the shrimp and slight alterations to cook time will be necessary if you prefer to grill directly on your coals or grill irons.

Ingredients:
1 small onion coarsely chopped
4 garlic cloves, coarsely chopped
3 large stalks of fresh lemon grass, bottom third of the tender white inner bulb only, thinly sliced
¼ cup minced fresh ginger
½ cup vegetable oil
1 tbs ground coriander
1 tbs sugar
1 tsp ground fennel seeds
1 tsp ground cumin
1 tsp turmeric
1 tsp salt
30 large shrimp, shelled, and deveined
Garlic peanut sauce
Bamboo skewers (optional)
Instructions:
1. In a food processor, combine the onion, garlic, lemongrass and ginger and pulse into a paste. In a large skillet, heat the vegetable oil and add the paste to the skillet, cooking over moderately low heat and stirring occasionally until browned. This should take about 25 minutes. 
2. Add the ground coriander, sugar, ground fennel seeds, cumin, turmeric and salt to the skillet and cook over moderately high heat, stirring until fragrant for about 1 minute. Scrape the spice paste into a bowl and allow to cool completely.
3. In a large, shallow dish, coat the shrimp with the spice paste. Cover and refrigerate for 3 hours to overnight.
4. If using bamboo skewers, soak  them in water for 30 minutes and light your grill. Thread your shrimp onto your skewers keeping in mind not to overcrowd each stick.
5. Grill over high heat for approximately 11 ½ minutes per side until the shrimp are nicely charred and cooked through. Serve immediately with the garlic peanut sauce and your favorite side.
Recipe credit to Food & Wine. Slight adaptions for food preferences were made.