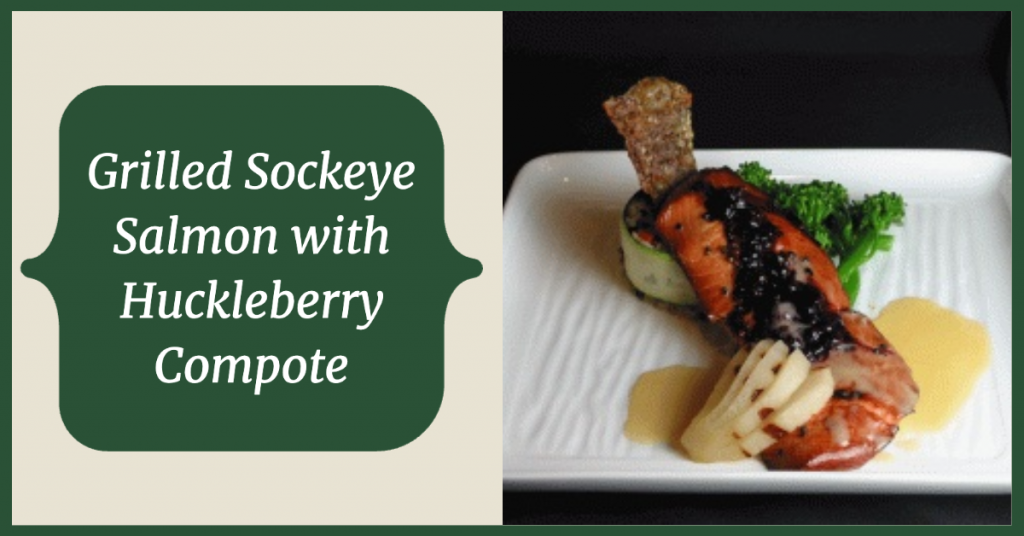 June 16, 2023
By Katalin Plummer, WSG Graduate Science Communications Fellow
This week on our in our Discover West Coast Seafood recipe series, we have a grilled sockeye salmon with a huckleberry compote, courtesy of NOAA Fisheries. This light summer recipe really celebrates the season by featuring sweet and tart huckleberries and blueberries. And sockeye salmon is not only delicious, but can also be a more sustainable choice when it comes to seafood. Change up your dinner routine with this creative recipe! You can also check out the NOAA Fisheries website and the rest of the Discover West Coast Seafood Series for more sustainable seafood recipes.
Ingredients 
3 tablespoons shallots, minced
¾ cup merlot wine
1 ½ cups huckleberries, frozen
¾ cup blueberries
1 ½ tablespoons sugar
1 ½ cups huckleberries, fresh
1 ½ tablespoons honey
Sea salt to taste (about ⅛ teaspoon)
½ teaspoon fresh ground black pepper
1 ½ teaspoons sherry vinegar
8 7-ounce portions sockeye salmon
Instructions
In a heavy bottomed stainless steel pan, combine the shallots and merlot. Bring to a slow boil and reduce to about 3 to 4 tablespoons. Add the frozen huckleberries, blueberries, and sugar. Bring to a simmer and reduce by half.
Remove the pan from the heat. Add the fresh huckleberries, honey, sea salt, and pepper. Gently mix the compote together. Add the sherry vinegar. Taste and adjust salt, pepper, and honey to your preference. The compote is best served at room temperature, but should be refrigerated between uses.
For the sockeye salmon, season it lightly with kosher salt (just a pinch) and a little crushed fennel seed (about ½ teaspoon per 7-ounce portion). Grill it over a BBQ grill, or bake in the oven. Health code recommends cooking all fish to 145°F, but if you prefer your salmon cooked medium-rare, cook it to 120°F.
Top each portion of salmon with about 2 tablespoons of the huckleberry compote and the side dishes of your choice. (Serving suggestion: with a wild mushroom gourmet rice blend, steamed broccolini, and spaghetti squash with honey and butter).
Notes: You can use either fresh or frozen huckleberries for the entire recipe. You can also substitute the huckleberries with blackberries to make a blackberry compote instead.
###
Washington Sea Grant, based at the University of Washington, helps people and marine life thrive through research, technical expertise and education supporting the responsible use and conservation of coastal ecosystems. The National Sea Grant College Program is part of the National Oceanic and Atmospheric Administration, U.S. Department of Commerce.
Join the conversation: @WASeaGrant and Facebook.com/WaSeaGrant.