February 10, 2020
By Abby Rogerson, WSG Student Assistant
This noodle soup is a perfect Sunday night meal, offering warmth and spice that's deeply satisfying. The broth gets its depth/umami from kombu and dried shiitake mushrooms, both of which are readily available at Asian grocery stores. Kombu is a type of seaweed that encompasses a range of different species. You may notice some white powder on it when you take it out of the package; you can wipe it off, but it's not necessary. I adapted my kombu broth recipe from this one by Jen Hoy.
I decided to top my noodle soup with marinated mushrooms, steamed baby bok choy, cubes of tofu, and fried garlic, but this meal is easy to customize to your taste. If you're not into tofu, shredded chicken or halved soft-boiled eggs would also be good.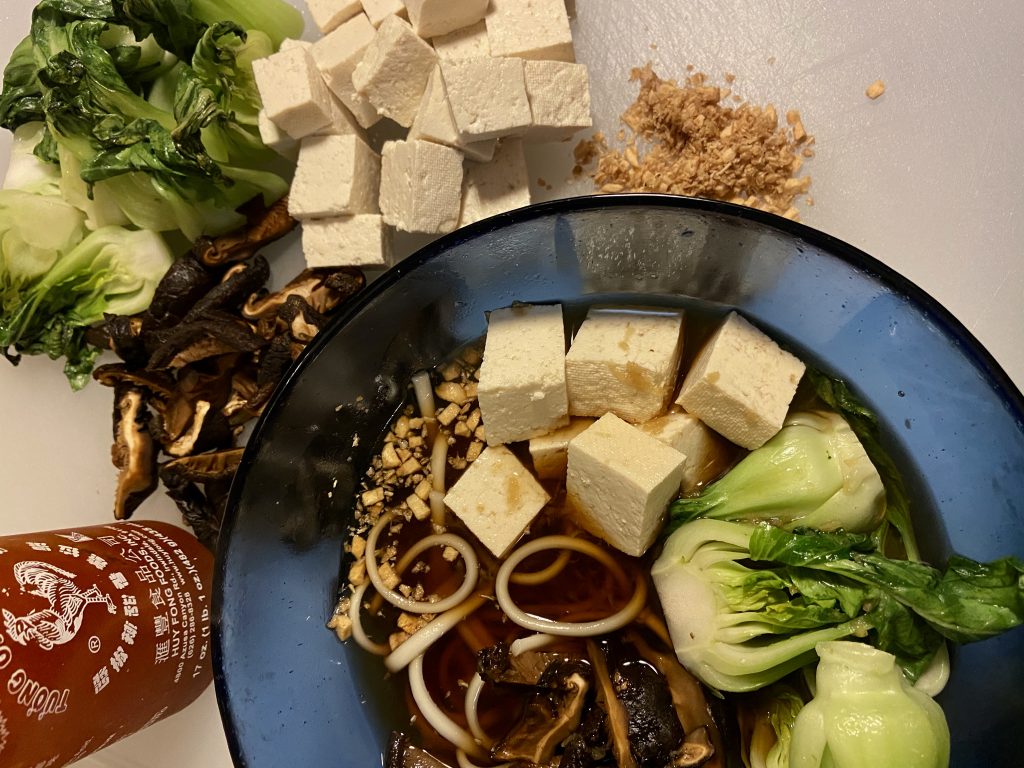 Ingredients:
Noodle Soup:
2 pieces kombu
2 cups dried shiitake mushrooms
1/2 cup mirin
3 tablespoons soy sauce
3″ piece ginger, grated
Udon noodles
Optional Toppings:
Cubed extra-firm tofu
Fried garlic
Place the kombu in a saucepan with 2 quarts of cold water and bring to a simmer. Make sure to keep an eye on it, as kombu gets bitter when boiled. Once it's at a simmer, remove the kombu and add the mushrooms. Keep it simmering for 30–45 minutes. Cook the udon noodles according to the package directions, drain, and separate into bowls. Prepare your toppings.
After your broth has been simmering for awhile, taste it to see if the mushroom flavor is strong enough. If so, remove the mushrooms and add the mirin, soy sauce, and ginger. Adjust the soy sauce to suite your saltiness preference.
Pour the hot broth over noodles and pile on your toppings. Serve with your favorite hot sauce and enjoy!