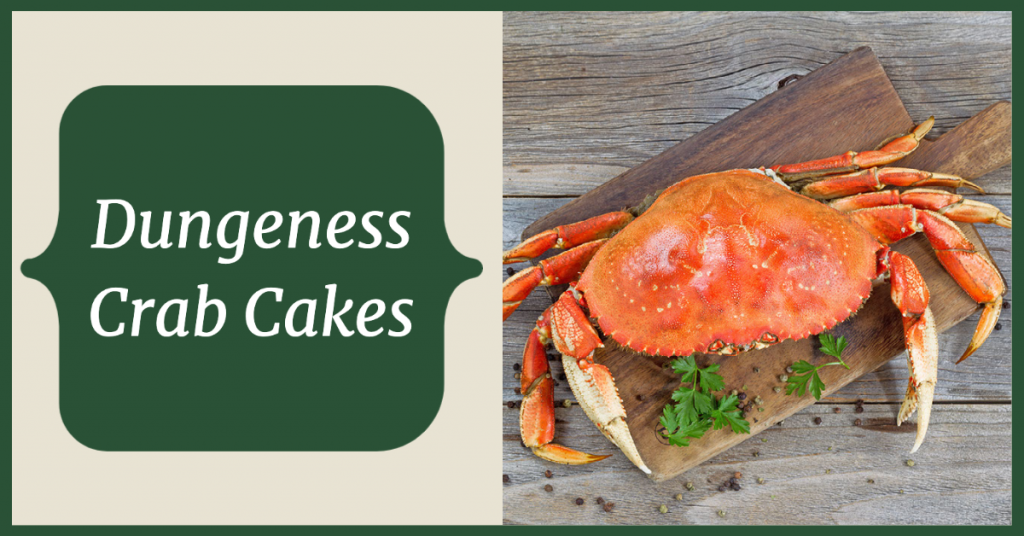 August 14, 2020
By Abby Rogerson, WSG Student Assistant 
What does eating local mean to you? In a state of abundant marine resources, Washingtonians have ample opportunity to explore what local seafood has to offer, from shucking shellfish at the beach with friends to signing up for a Community Supported Fishery share to be delivered right to your door. At Washington Sea Grant, one exciting aspect of promoting local seafood is collaborating with others also working to connect fishermen and growers with consumers. Our friends at Oregon Sea Grant shared this chef-inspired recipe for Dungeness crab cakes with us (credit to chef Tom Douglas of Seattle Kitchen) – try it out and join our community of local seafood enthusiasts by sharing your photos and recipes on social media with the hashtag #LocalWASeafood! 
Ingredients:
1 large egg yolk

2 teaspoons fresh lemon juice

2 teaspoons Worcestershire sauce 

1 ½ teaspoons Tabasco

2 tablespoons plus 1 teaspoon Dijon mustard

½ teaspoon paprika 

½ teaspoon chopped fresh or dried thyme 

½ teaspoon celery seeds

¼ freshly ground black pepper 

5 tablespoons olive oil 

5 cups fresh bread crumbs 

¾ cup chopped parsley 

¼ cup chopped onion 

¼ cup chopped green bell pepper 

¼ cup chopped red bell pepper

1 pound Dungeness crabmeat, drained, picked clean of the shell, lightly squeezed if wet 

5 tablespoons unsalted butter

Lemon wedges
Instructions:
In a food processor (use a medium-size food processor, a mini processor, or a blender), combine the egg yolk, lemon juice, Worcestershire, Tabasco, mustard, paprika, thyme, celery seed, and black pepper.  Pulse to combine.  With the motor running, slowly add the oil through the feed tube until the mixture emulsifies and forms a mayonnaise.  Remove the mayonnaise from the food processor and set aside.

Put the breadcrumbs in a shallow container and mix in ½ cup of the chopped parsley (reserve the remaining ¼ cup chopped parsley for the crab cake mixture).  Set aside.

In a large bowl, combine the onion and bell peppers with the remaining ¼ cup parsley.  Add the reserved mayonnaise and the crabmeat and mix lightly to combine.  Using a rubber spatula, fold in 1 cup of the breadcrumb-parsley mixture.  Do not overwork the mixture or the crab cakes may get gummy.  Gently form eight patties and dredge the patties lightly in the remaining breadcrumb-parsley mixture.  If you have time, cover the crab cakes with plastic wrap and chill for an hour or longer.

Place two large nonstick skillets over medium heat and add about 2 ½ tablespoons butter to each pan.  As soon as the butter is melted, add four cakes to each pan. Gently fry the crab cakes until they are hot through and golden brown on both sides, turning once with a spatula, about 4 minutes per side. Serve with lemon wedges and enjoy!