Updated: Sept 15, 2021 
By Abby Rogerson, WSG Student Assistant 
While a heap of steamed herb-flecked shellfish always looks restaurant-worthy, this one-pot recipe is super simple to make at home. Mussels are steamed in garlicky vermouth, then tossed with spicy butter and parsley. If you've never cooked mussels at home, no worries – check out local chef and educator Becky Selengut's video on preparing mussels here. Selengut is also the brains behind this recipe, which is a very close adaptation of one of the recipes from her book Good Fish. Mussels definitely qualify as good [shell]fish – locally produced, sustainably managed by the Washington Department of Fish and Wildlife, and delicious!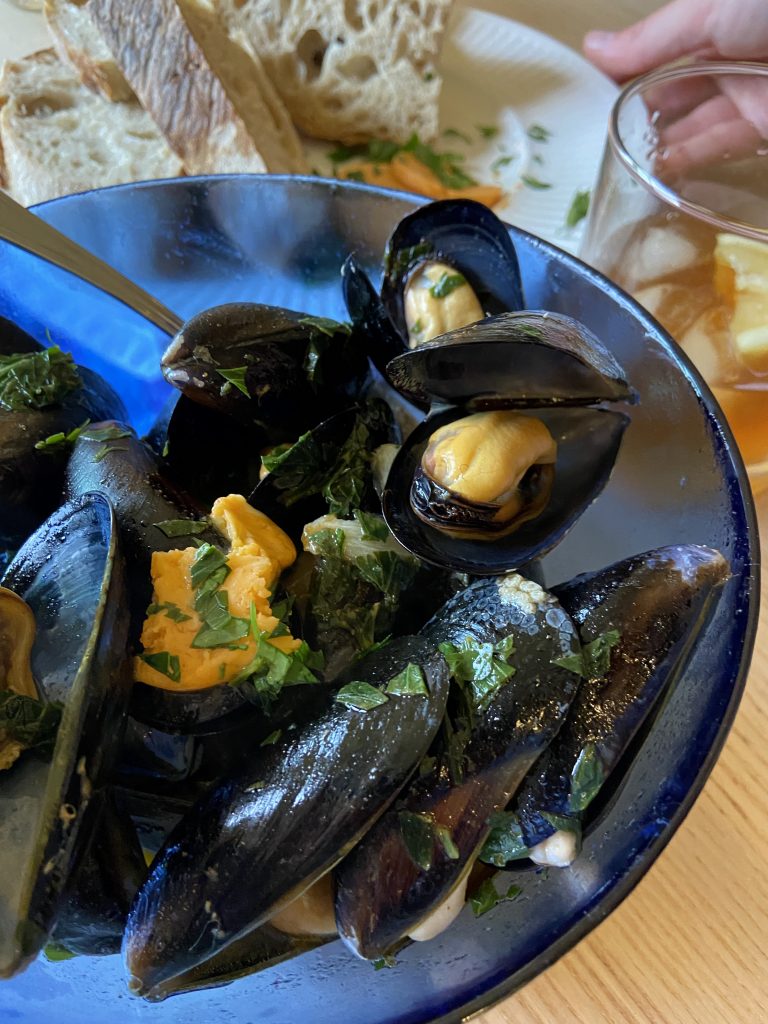 Ingredients: 
½ lb unsalted butter, at room temperature 

1 tablespoon tomato paste 

½ teaspoon cayenne, more to taste 

Extra-virgin olive oil 

2 cloves garlic, crushed 

2 pounds mussels, scrubbed and debearded

¼ cup dry white vermouth 

¼ cup chopped flat-leaf parsley 

Good sourdough bread or baguette, for serving 
Instructions: 
Step 1: In a large bowl, thoroughly mix the softened butter, tomato paste, and cayenne together until uniform in color. Lay the butter mixture onto a piece of plastic wrap and form it into a log. Wrap the butter log in the plastic wrap and put it in the fridge. 
Step 2: Heat a drizzle of olive oil in a stockpot over medium-high heat. Add garlic and let it cook for a minute. Add the vermouth and mussels. Cover and let mussels steam for about 3 minutes. 
Step 3: Remove the open mussels from the pot and set aside. If some are still closed, let them cook for a couple minutes longer. If they remain closed, discard them. Once all the mussels are out of the pot, let the liquid reduce for a minute. Reduce the heat and stir in the parsley and 3 tablespoons butter mixture. 
Step 4: Spoon the mussels back into the pot and gently mix to coat with broth. Divide the mussels and broth into two bowls and serve with bread.