April 24, 2020 
By Abby Rogerson, WSG Student Assistant
The harbingers of summer are calling in Washington– windows are opening, the trees are greening, and we're sitting down to dinner while it's still light out. This one-dish rockfish cheers on the summertime feeling, as it's a breeze to make and leaves you feeling light and nourished. To round out the meaI, I served it alongside an herby quinoa salad inspired by this recipe and a thick slice of buttered sourdough bread. 
Many species of rockfish inhabit the Pacific coast, and the Washington Department of Fish and Wildlife (WDFW) manages these populations to ensure they're being harvested sustainably. Check out the WDFW website if you're curious about what species are most commonly caught by local commercial harvesters. Rockfish is harvested year-round, making this a good recipe to bookmark and add to your rotation regardless of the season! Washington rockfish is wild, sustainable and delicious. Download the recipe card here.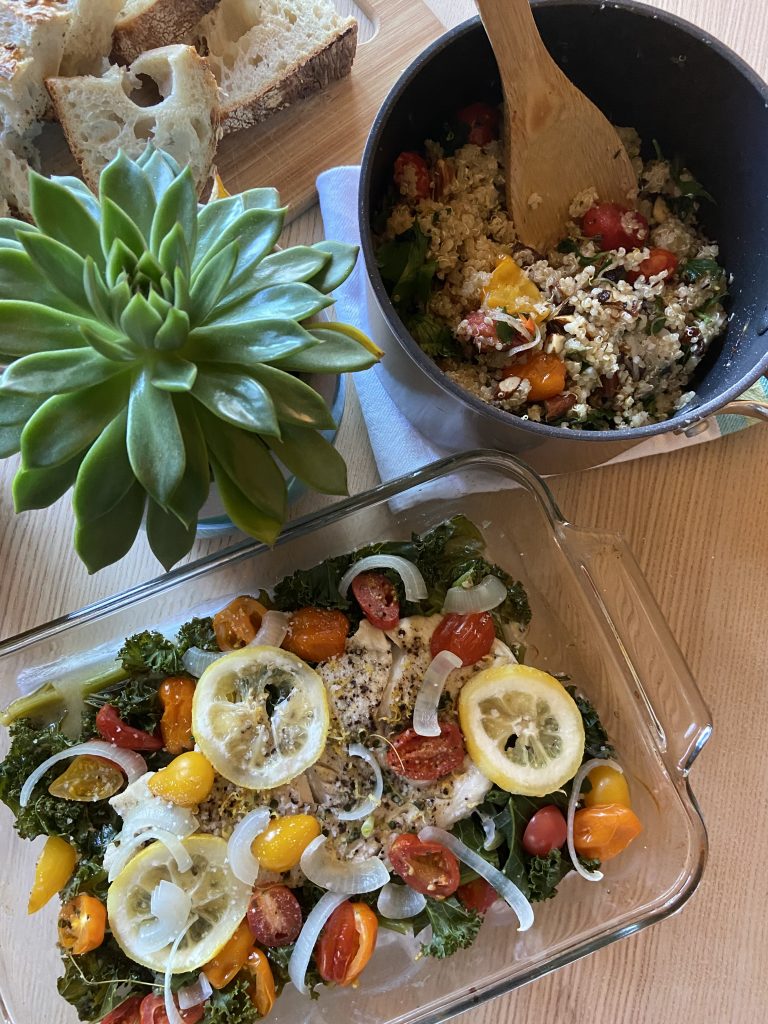 Serves 2 
Ingredients: 
5 cups hardy greens (spinach, kale, chard)

2 6-oz rockfish fillets, or one larger fillet to split 

10 cherry tomatoes, halved

½ cup vegetable broth

2 tablespoons dill, minced

¼ teaspoon garlic powder

½ teaspoon lemon pepper

¼ teaspoon onion powder 

Salt and pepper

Lemon rounds

¼ onion, thickly sliced

1 teaspoon butter 

Directions: 
Step 1: Preheat the oven to 400 degrees. 
Step 2: Layer the greens on the bottom of a 2-quart baking dish and lay rockfish on top. Scatter the tomatoes around the fish. Pour the broth into the dish. 
Step 3: Sprinkle the dill, spices, salt and pepper over the fillet. Place a couple lemon rounds, the onion, and butter on the fish. Cover the entire dish with aluminum foil. 
Step 4: Bake until the fish flakes easily, 20–25 minutes.