September 5, 2018 
Collaborative effort produces a new marine debris action plan for Washington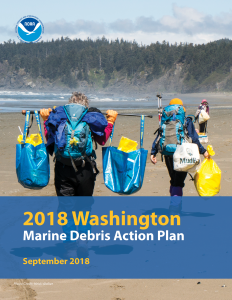 Trash on our shorelines and in the ocean, also known as marine debris, is a persistent and growing global environmental issue.  A lot is at stake particularly in Washington State, where outdoor recreation, shellfish harvests and aquaculture, and commercial, tribal and recreational fisheries are all economically and culturally significant. Marine debris interferes with the health of these important marine resources. Today, local organizations and agencies released a marine debris action plan for the state, the result of a year-long collaborative process facilitated by NOAA's Marine Debris Program.
The plan will facilitate and track actions that prevent and reduce marine debris throughout Washington, including Puget Sound, the Northwest Straits, Washington's Pacific Coast, the Columbia River estuary and inland sources. To create the plan, 66 representatives from more than 40 entities participated in two workshops to compile and review current efforts, identify strategic gaps and recommend future actions. NOAA's Marine Debris Program supported the effort by convening the planning committee, organizing and hosting the workshops and engaging the planning committee.
The Action Plan has four main goals:
Prevention: Prevent generation of marine debris through coordinated actions
that include community engagement, policy changes, best management practices and incentive programs;
Removal: Locate, identify, remove and recycle or dispose of land- and ocean-based
marine debris from Washington's shorelines and waters;
Research: Conduct coordinated, high-quality research to inform actions that
reduce the adverse impacts of marine debris; and
Coordination: Coordinate marine debris actions effectively throughout Washington.
Each goal is supported by strategies with specific actions. The plan includes a compendium of what is being done now, as well as a roadmap to future work.
Marine debris comes from many different sources, from windblown litter to lost or abandoned fishing gear. Removal of fishing gear has been a focus of the Northwest Straits Foundation, one of the organizations that helped write the plan. "Since 2002, our Derelict Fishing Gear Program has worked together with stakeholders including county, state, tribal and federal agencies to remove 5,800 derelict fishing nets and over 5,000 derelict crab pots from Washington's Salish Sea," says Jason Morgan, Marine Projects Manager for the Northwest Straits Foundation.
However, the problem of marine debris "has grown to a scale where no individual organization can tackle it alone," says Paul Dye, Assistant Director for Outreach at Washington Sea Grant, who participated on the planning committee. "We appreciate the willingness of so many agencies, tribes and nonprofit organizations to work together for greater impact."
The plan is available online at the NOAA Marine Debris Program website: https://marinedebris.noaa.gov/reports/washington-marine-debris-action-plan
Media Contact: Paul Dye, Assistant Director for Outreach, Washington Sea Grant 206-854-8803 or pbdye16@uw.edu
###
Based at the University of Washington, Washington Sea Grant provides statewide marine research, outreach, and education services. The National Sea Grant College Program is part of the National Oceanic and Atmospheric Administration, U.S. Department of Commerce. www.wsg.washington.edu