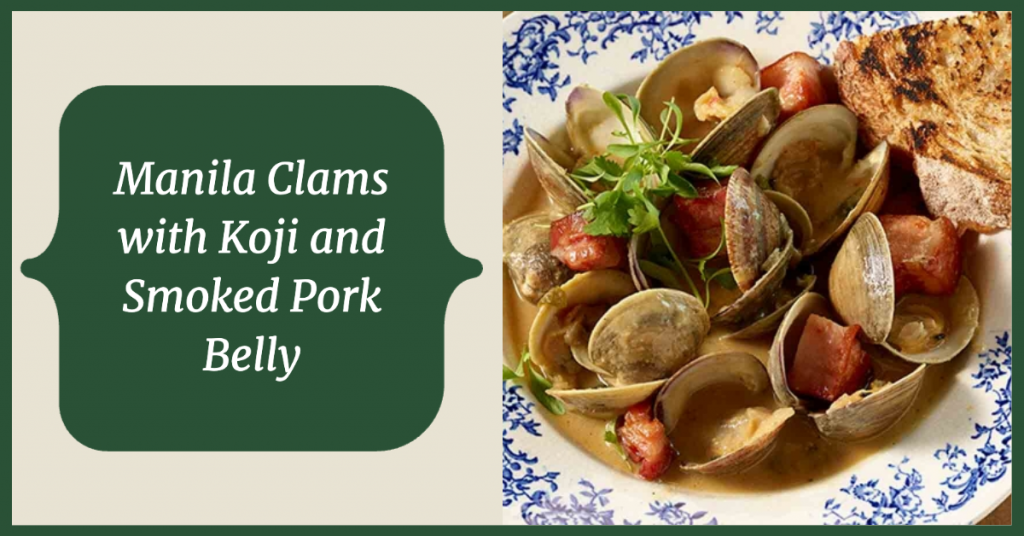 July 28, 2023
By Katalin Plummer, WSG Graduate Science Communications Fellow
This week on our Discover West Coast Seafood series, we have a recipe for you that is sure to entice a seafood skeptic. San Diego-based executive chef Andrew Bachelier developed this rich, Japanese-inspired dish featuring Manila clams and mouthwatering smoked pork belly. You can find this recipe and many more online at PlateOnline, or follow Chef Bachelier on Instagram.
For more sustainable seafood recipes and information, follow along with our Discover West Coast Seafood series!
Serves 1
Ingredients
Oil, as needed
10–12 Manila clams
1 tsp diced shallot
1 tsp sliced garlic
1 tsp charred poblano pepper
Splash of white sake
6 oz. green tomato dashi
1 tbsp kosho butter
1 tbsp koji paste
5–7 chunks smoked pork belly (2–3 oz)
Microcilantro for garnish
Finishing oil (such as chili oil)
Lime juice to taste
2 slices grilled bread
Salt to taste
Instructions
Heat oil in skillet until hot, then toss in clams. You want to avoid the pan from flaring up.
Add shallots, garlic, and poblano. Season with salt and let cook for a couple of minutes.
Deglaze pan with a splash of white sake and add dashi, kosho butter, and koji paste. Season with lime juice and more salt if needed. Transfer to a serving bowl.
Render and crisp up smoked pork belly.
Garnish clams with pork belly, microcilantro, and finishing oil. Serve with grilled bread.
###
Washington Sea Grant, based at the University of Washington, helps people and marine life thrive through research, technical expertise and education supporting the responsible use and conservation of coastal ecosystems. The National Sea Grant College Program is part of the National Oceanic and Atmospheric Administration, U.S. Department of Commerce.
Join the conversation: @WASeaGrant and Facebook.com/WaSeaGrant.