March 16, 2023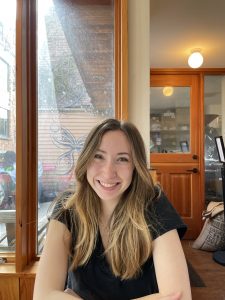 My name is Emma Duckworth and I am grateful for the opportunity to be Washington Sea Grant's undergraduate science communication fellow for the spring of 2023. I grew up in Livermore, California, a small town in the Bay Area about an hour from the coast. Spending much of my childhood outdoors and traveling to the ocean, I quickly developed a love for nature and an interest in environmentalism. I knew that after high school I had to be involved in some sort of marine science: in 2020, I started at the University of Washington (UW) pursuing a degree in marine biology and environmental studies. Every marine biology class I took at UW circled back to one topic: the effects of climate change on marine ecosystems. From this common theme, I knew I wanted to be involved with marine conservation and climate change research. 
During the spring of my sophomore year, I got involved as an editor with FieldNotes, an undergraduate science communications journal at UW. Our editorial board focused on sharing science research being conducted by undergraduate students on campus. As an editor, I was able to write blog posts for the website, write a feature article for the journal, and work with an undergraduate researcher to edit an article on her research project. My work with FieldNotes strengthened my love for science writing and introduced me to the importance of writing about science for the general public.
During the summer of my sophomore year, I earned an internship at Coastal Observation and Seabird Survey Team (COASST), a citizen science program on campus. Working with COASST, I was introduced to citizen science and how researchers can get non-scientists involved with data collection. As an intern, I was able to connect directly with participants and teach them about how the data they collect on seabird mortality and marine debris can indicate changes in marine ecosystem health. This experience inspired my passion for community outreach and sharing scientific research with broader audiences. 
My involvement with COASST and FieldNotes pushed me to pursue more experience in the science communications field, which led me to Washington Sea Grant. As the undergraduate science communications fellow, I am eager to learn more about local outreach projects and get more involved with marine ecosystem health within the Puget Sound. I am excited for this opportunity to strengthen my science writing skills and learn more about digital content creation. 
Some fun facts about me: I will be spending half of the summer at Friday Harbor Labs, a UW research lab in the San Juan islands. There, I will be taking a marine bird and mammal course as well as working on designing a small-scale research project. This summer I am also hoping to get dive certified so I can begin scientific diving! The other half of the summer I'll spend with my family, two cats, and dog in California. 
###
Washington Sea Grant, based at the University of Washington, helps people and marine life thrive through research, technical expertise and education supporting the responsible use and conservation of coastal ecosystems. The National Sea Grant College Program is part of the National Oceanic and Atmospheric Administration, U.S. Department of Commerce.
Join the conversation: @WASeaGrant and Facebook.com/WaSeaGrant.