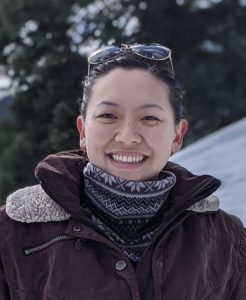 February 17, 2021
Washington Sea Grant is excited to welcome Heather Yu as the newest Keystone Fellow.
Heather grew up in the heart of Texas, but traded cacti for pines when she moved to Washington to pursue a master's degree at the UW Evans School of Public Policy & Governance, specializing in environmental policy. To complete her degree, Heather worked with the WA Department of Ecology to assess both the agency's overall management of and each department's individual approach to climate change, with a focus on decision-making processes and policymaking. Heather has previously devoted her time to a range of environmental issues, including species conservation and urban sustainability. In 2015, she graduated from New York University with a dual degree in Art History and Environmental Studies. She then became a conservation writer at the nonprofit Global Wildlife Conservation, where Heather covered stories on threatened species, global biodiversity, and conservation developments. At the nonprofit Farm&City, Heather expanded her vision and understanding of equitable and practical sustainability.
She now fervently seeks to repair the divide between societal needs and environmental wellbeing; equity and development; and human and nonhuman animals. Heather does not stand for the status quo, and as a WSG Keystone Fellow, she will work with the Seattle Aquarium to advocate ocean policies that reflect the vibrant and just future of all communities, on land and under the sea.