June 15, 2023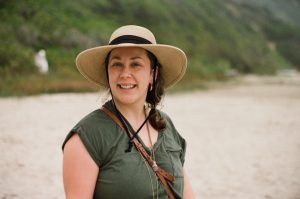 Growing up in eastern Oregon, I always felt like a fish out of water. I had always believed my soul wasn't made to live with unbearably hot summers and 10% humidity. I was eager to trade my small hometown for something bigger and greener—a tale as old as time. When it came time for college, I was confident that I wanted to attend the University of Oregon, located in the beautiful western Oregon city of Eugene, which was undoubtedly bigger and greener than tiny Ontario. I was drawn to pursuing a degree in marine biology since I had read Rachel Carson's The Edge of the Sea in a biology class in high school and became fascinated by the magic of the underwater world. Always the overachiever, I also declared a major in Spanish to continue learning and keep my dream of living in Latin America alive. That dream quickly became a reality as I embarked on a six-month journey to study abroad in Valparaíso, Chile. To say that my time in Chile was absolutely life-changing would still be an understatement. In fact, after I returned to the U.S. and graduated with my bachelor's, I bought a one-way ticket back to my home away from home and started working at the Estación Costera de Investigaciones Marinas (ECIM) in Las Cruces, Chile.
At ECIM, I had the pleasure of working as an intertidal field ecologist, studying community assemblages, larval recruitment, and barnacle spawning patterns. I immersed myself in a whole other side of Chilean culture, visited incredible places and saw tons of breathtaking views, and even met my very best friend in the world. With the help of my partner and friends, I became truly fluent in Chilean Spanish, so much so that not only could I convince people I was Chilean, but I could also navigate a small-town hardware store with no issue (okay, there were still some issues, but they were small). 
After a year or so of working at ECIM, I was invited to be a marine science instructor with Chile Es Mar (Chile Is Sea), a program that taught young Chilean students from all over the country about marine science and conservation issues. I was grateful to have the chance to share my passion for marine invertebrates and biodiversity conservation with the children who will one day be leaders in Chile. While working with Chile Es Mar, it occurred to me that I could have a career working in science, communication, and policy all together, and maybe that was the niche that I wanted to pursue. 
In 2020, I moved back to the U.S. in hopes of attending graduate school. While I eventually got there, I made a two-year pit stop back in my hometown of Ontario, Oregon, and started working in communications for Friends of the Owyhee, a nonprofit organization that works to protect the public lands of the Owyhee, an arid bioregion spanning Oregon, Idaho, and Nevada. I helped to build up the website and social media channels while refining and unifying internal and external communication content. I also developed a communications ethic and strategic plan for upcoming years and participated in conversations about conservation policy surrounding the Owyhee. I learned so much while working for Friends of the Owyhee, and I knew I was moving in the right direction.
Now, I'm a soon-to-be second-year master's student at the University of Washington School of Marine and Environmental Affairs, and I couldn't be happier to be in this incredible, interdisciplinary program. I'm also grateful to be serving as the science communications fellow with Washington Sea Grant for summer 2023. My goal to work at the intersection of science, policy, and communication is within reach.
When I'm not in class or writing for Currents: A Student Blog, you can find me walking the Burke-Gilman trail, seeing a show at the Crocodile, and—maybe one day—singing with Seattle Opera.
###
Washington Sea Grant, based at the University of Washington, helps people and marine life thrive through research, technical expertise and education supporting the responsible use and conservation of coastal ecosystems. The National Sea Grant College Program is part of the National Oceanic and Atmospheric Administration, U.S. Department of Commerce.
Join the conversation: @WASeaGrant and Facebook.com/WaSeaGrant.