August 26, 2022
By Olivia Horwedel, WSG Science Communications Fellow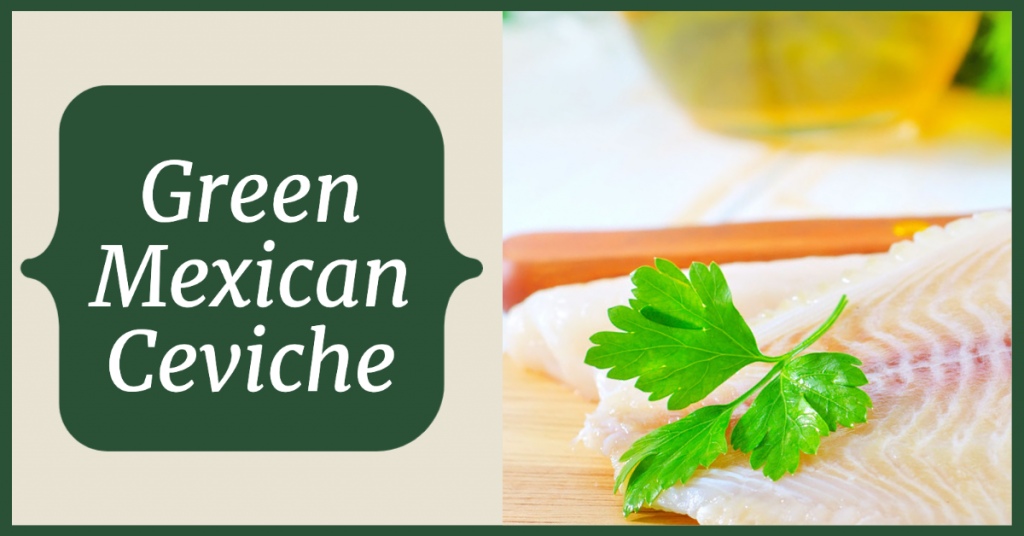 This week, we are making Mely Martinez's Green Mexican Ceviche from the food blog, Mexico in my Kitchen. Mely's recipe utilizes fresh summer produce and barramundi fish, also known as Asian sea bass. If you want to try this recipe with a locally caught fish, Washington Sea Grant recommends using Dover sole, similar in flavor and texture to the barramundi. This great substitute is an underutilized and sustainable fish found in Washington waters. In the U.S., sole is a smart choice due to its responsible harvest under the current regulations and guidelines.
Ingredients:
1 lb dover sole
½ cup lime juice
4 medium size tomatillos
½ medium size white onion
2 serrano peppers
(or 1 jalapeño)
½ cup chopped cilantro
1 teaspoon Mexican Oregano
8 olives
2 tablespoons olive oil
Salt and pepper to taste
1 avocado
Serving: 
Corn tostadas or saltine crackers
Slices of radishes or tomatoes for garnish
Method:
1. Remove fish skin with a boning or paring knife. To do this, put your filet on the cutting board with the skin side down, and make a cut to separate a small flap of the skin in one of the corners closest to you. Grab the flap, and slide the knife between the skin and the filet. Make sure to slide the knife all the way under the filet, trying not to leave any of the fish meat on the skin.
2. Cut the fish in small ⅓-in. cubes and place in a glass bowl. Season with salt and add the lime juice. Cover the bowl with plastic wrap and place in the fridge, and marinate for at least 30 minutes. Meanwhile, prepare the rest of the ingredients.
3. Finely chop the tomatillos, onion, peppers, and olives. Mix in a large bowl with the cilantro, Mexican oregano, and ground black pepper.
4. After 30 minutes, remove fish from the fridge and gently toss with the ingredients into the large bowl. Just before serving, dice the avocado and toss into the ceviche, drizzle the olive oil, and taste to add more salt if needed. Serve in cups or small bowls, garnish with some radish slices or tomato slices. Enjoy!
Photo: Mely Martinez, Mexico in my Kitchen