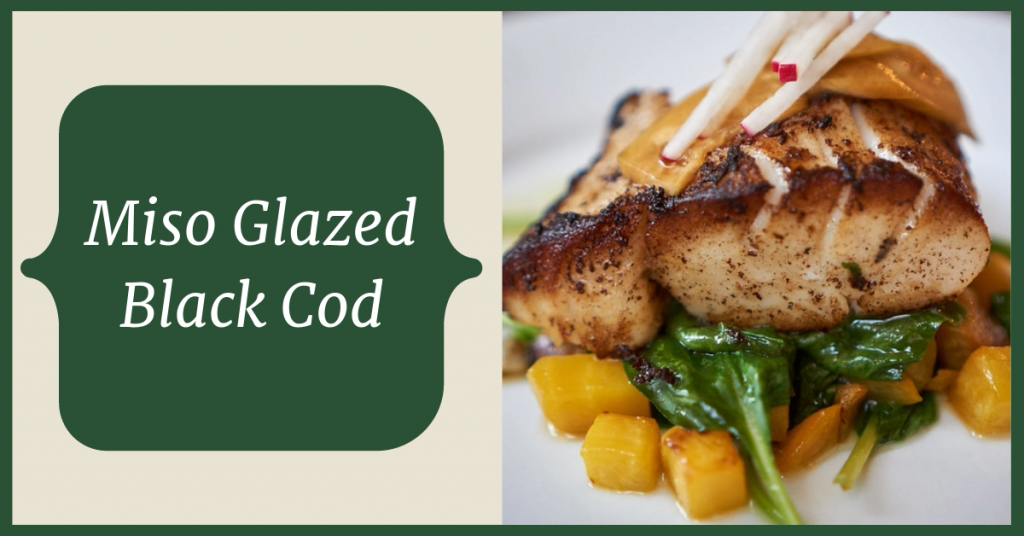 September 8, 2023
By Katalin Plummer, WSG Graduate Science Communications Fellow
Another fun recipe for you this week on the Discover West Coast Seafood series! Pair the delicate flavor of black cod with rich miso and fresh ginger in this quick-to-cook recipe. Marinating the fish for several hours really helps lock in the flavor, so don't skip that step!
A great way to keep your purchases sustainable is to buy locally! Here in Washington, we are lucky to live so close to the Pacific Ocean. Make sure to find seafood markets that source local seafood in order to reduce shipping costs and emissions as well as keep local fishers employed. We recommend you check out the Bellingham Dockside Market for fresh local seafood. Especially keep an eye out for Sound Leader Seafoods, who we thank for this recipe!
For more sustainable seafood recipes and information, follow along with our Discover West Coast Seafood series!
Serves 4
Ingredients
Marinade

1/3 cup dry sake
1/3 cup mirin
1/3 cup red miso
3 tbsp packed brown sugar
2 tbsp soy sauce 1 tsp grated fresh ginger

Fish

4 black cod fillets
2 tbsp chopped green onions, for garnish
Instructions
Make the marinade. In a medium bowl, mix together the sake, mirin, red miso, brown sugar, soy sauce, and ginger until well blended.
Marinade the fillets. Place the cod fillets and the marinade in a large plastic bag, and squeeze out as much air as possible. Place the bag in a bowl and refigerate for 8–24 hours, turning the bag over occasionally.
Cook the fish. After 8–24 hours, turn on the broiler and arrange the rack one level down from the top. Place the cod fillets in an ovenproof pan and broil for approxiamtely 5 minutes, or until the tops of the fillets are caramelized. Top with chopped green onions, and serve.
###
Washington Sea Grant, based at the University of Washington, helps people and marine life thrive through research, technical expertise and education supporting the responsible use and conservation of coastal ecosystems. The National Sea Grant College Program is part of the National Oceanic and Atmospheric Administration, U.S. Department of Commerce.
Join the conversation: @WASeaGrant and Facebook.com/WaSeaGrant.