May 16, 2023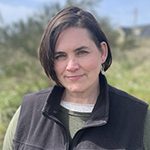 We are thrilled to welcome Brandii O'Reagan as a new fisheries specialist at Washington Sea Grant. In this role, Brandii will focus on developing and coordinating strategies that advance the safety, economic success and environmental sustainability of Washington's fisheries and seafood sectors.
Brandii believes that one of the most important aspects of improving seafood harvest quality and sustainability is to create educational opportunities. She has fished on drift, setnet, jig and longline fisheries in Alaska and worked on a tender for herring and salmon. She has taught quality processing and handling, direct marketing and food safety workshops online and in person.
###
Washington Sea Grant, based at the University of Washington, helps people and marine life thrive through research, technical expertise and education supporting the responsible use and conservation of coastal ecosystems. The National Sea Grant College Program is part of the National Oceanic and Atmospheric Administration, U.S. Department of Commerce.
www.wsg.uw.edu.
Join the conversation: @WASeaGrant and Facebook.com/WaSeaGrant.