April 3, 2023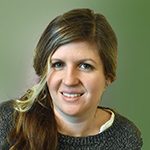 Michele Blanchflower joined Washington Sea Grant in March 2023. In her new role as the fiscal specialist supervisor, she supports administrative and fiscal functions, assisting with coordination, planning, reconciliation, forecasting, procurement, and executing direct services for WSG.
She acts as an intradepartmental liaison for internal wide communication with external stakeholders.
Michele studied small business management at the University of Massachusetts Dartmouth and holds a bachelor's degree in mathematics and natural science with an emphasis in environmental science from Thomas Edison State University. When she is not hitting the slopes, and exploring the Pacific Northwest, she enjoys teaching music classes, participating in citizen science, and volunteering in the local community.
###
Washington Sea Grant, based at the University of Washington, helps people and marine life thrive through research, technical expertise and education supporting the responsible use and conservation of coastal ecosystems. The National Sea Grant College Program is part of the National Oceanic and Atmospheric Administration, U.S. Department of Commerce.
www.wsg.uw.edu.
Join the conversation: @WASeaGrant and Facebook.com/WaSeaGrant.