April 3, 2023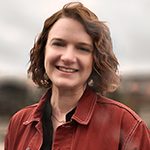 We are thrilled to welcome Chandler Countryman as the new resilience and adaptation specialist at Washington Sea Grant.
In this role, Chandler works with communities in the South Puget Sound area and along Washington's coast to advance efforts related to coastal hazards and climate resilience by gathering local knowledge and perspectives, identifying community priorities, and connecting local efforts to funds, technical support, and other resources. She is passionate about protecting coastal environments and supporting the people who live, work, and play in these environments.
Chandler is currently working on four projects at Washington Sea Grant: (1) co-managing the Coastal Hazards Resilience Network (CHRN); (2) supporting the development and use of the United States Geological Survey (USGS) Coastal Storm Modeling System (CoSMoS) in Washington State; and (3) facilitating efforts for the Lower Willapa Resilience project; project; and (4) the Tribal Coastal Resilience Portfolio of the Northwest Climate Resilience Collaborative.
###
Washington Sea Grant, based at the University of Washington, helps people and marine life thrive through research, technical expertise and education supporting the responsible use and conservation of coastal ecosystems. The National Sea Grant College Program is part of the National Oceanic and Atmospheric Administration, U.S. Department of Commerce.
www.wsg.uw.edu.
Join the conversation: @WASeaGrant and Facebook.com/WaSeaGrant.