February 28, 2022
We are thrilled to welcome two new staff to the team: Andrea Chateaubriand and Sam Cheplick.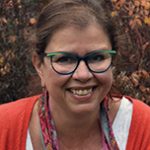 Andrea joined WSG in December 2021 as the executive assistant. In this role, she collaborates with the WSG director and leadership team and plays an integral role in managing events, projects, and overseeing elements of the overall internal operations. Andrea immigrated to Seattle from Brazil, where she worked as an assistant to foreign correspondents covering the news throughout South America. Prior to WSG, she spent 18 years working for Health Alliance International (HAI), an NGO within the UW Department of Global Health. At HAI, she supported both the executive and deputy directors, and coordinated the board of directors' activities and meetings. Andrea is bilingual in English and Portuguese and is proficient in Spanish. She loves the outdoors and has two rescue dogs. When she's not working, she loves to be in the garden and grow all kinds of edible and beautiful things.
Sam joined WSG in January 2022 as the socioeconomic environmental outreach coordinator. He completed his master's degree in environmental science from Clemson University the month prior, where his thesis focused on the underlying factors limiting the overall production of fish and shellfish products through mariculture. His work, which was funded through the U.S. Department of Agriculture, combined novel research in the fields of genetics, grow-out methods and market evaluation for coastal U.S. shellfish mariculture production. At Washington Sea Grant (WSG), Sam's work will support shellfish growers and harvesters in mitigating the socioeconomic impacts of harmful algal blooms (HABs) through the SoundToxins program. SoundToxins was started in 2006 to provide early alerts to recreational and commercial harvesters through phytoplankton monitoring in the Puget Sound. This work is conducted through a grant by NOAA's National Centers of Coastal and Ocean Science (NCCOS).