September 29, 2023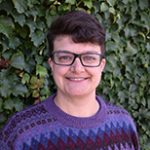 Washington Sea Grant (WSG) is thrilled to welcome Hannah Shelly as the communications specialist.
In this role, they collaborate with the WSG communications team and play an integral role in coordinating projects, supporting ongoing outreach efforts, social media and website management, as well as assisting with both internal and external communications.
Hannah holds a bachelor's degree in photography and digital media from Eastern Mennonite University. They seek to use their skills to bring awareness to important social issues and uplift the voices of marginalized communities. They are especially passionate about sustainable food practices, destigmatizing mental health, along with conflict resolution and reconciliation.
Originally from Ohio, Hannah moved to Seattle with their partner and furbabies in 2022. When not behind the desk, they can be found exploring all the PNW has to offer. They love hiking and being outdoors, trying new foods, cheering on the OL Reign, and hand-stitched embroidery projects. Hannah can confirm that West Coast is indeed Best Coast and they look forward to the many adventures that lie ahead.
###
Washington Sea Grant, based at the University of Washington, helps people and marine life thrive through research, technical expertise and education supporting the responsible use and conservation of coastal ecosystems. The National Sea Grant College Program is part of the National Oceanic and Atmospheric Administration, U.S. Department of Commerce.
www.wsg.uw.edu.
Join the conversation: @WASeaGrant and Facebook.com/WaSeaGrant.