March 30, 2022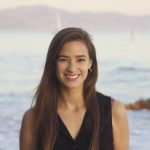 Washington Sea Grant is thrilled to welcome Michelle Lepori-Bui, marine water quality specialist, to the team.
Michelle partners with Native tribes, aquaculture businesses, natural resource managers, environmental education centers, and other community groups and volunteers to monitor and address marine water quality issues in Washington. She provides technical assistance and support to the SoundToxins program, which focuses on early detection and warning of harmful algal blooms in Puget Sound to minimize health risks and economic impacts.
Prior to joining Washington Sea Grant, Michelle earned her master's degree in ecology, evolution, and marine biology from the University of California, Santa Barbara. Her graduate work investigated the evolutionary response of mixotrophic nanoflagellates (phytoplankton that gain energy by mixing photosynthesis and heterotrophy) to increased temperatures. Before graduate school, Michelle worked as a research assistant at the University of Maryland Center for Environmental Science studying the effectiveness of nutrient management strategies on water quality in the Chesapeake Bay Watershed. She also has experience studying wetlands in Delaware and was an environmental educator in northern California. She has a bachelor's degree environmental science from the University of Delaware.