February 6, 2020
Seattle, WA – On Saturday, February 1, 2020, 20 teams of high school students from Seattle to Soap Lake gathered at University of Washington (UW) Fishery Sciences Building for the 23rd annual Orca Bowl. The teams were quizzed on their marine science knowledge in four exciting rounds for a spot in the National Ocean Sciences Bowl (NOSB) Finals, which will be held in Long Beach/Gulfport, Mississippi on April 16 to 19, 2020.
The Newport High School A Team took first place, Garfield High School clinched the second-place spot, and Ocean College Research Academy secured third place. Moses Lake received the Megan Vogel Sportsmanship Award for their positive attitude and team spirit throughout the competition.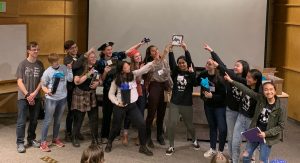 The event was fun-filled and high energy, with many teams and volunteers in marine-themed costumes, including pirates and sea creatures. The goal of Orca Bowl, however, was more than just a day of fun. The event is meant to promote education and inspire the next generation of marine scientists and ocean stewards. Even as our coastal ecosystems contend with threats including climate change, ocean acidification, habitat degradation, and fishing pressure, the dedication of these students – who regularly spent several hours studying after school to prepare for the event – demonstrates that the next generation has what it takes to fight for the planet.
Orca Bowl was organized by Washington Sea Grant, a program within the UW College of the Environment. Thank you to our local sponsors who made Orca Bowl possible:
Major Local Sponsors:
      UW Washington Sea Grant
      National Ocean Sciences Bowl
      UW Joint Institute for the Society of the Atmosphere and Ocean
      UW School of Aquatic and Fishery Science
      Ocean Peace, Inc.
The 2020 national NOSB program is made possible through the following sponsors:
     National Oceanic and Atmospheric Administration
     The National Academies of Sciences, Engineering, and Medicine
      Wendy & Eric Schmidt
      Deerbrook Charitable Trust
      National Aeronautics and Space Administration
      Sharon and Wayne Sternberger
      Shell Exploration & Production Company
      Lockheed Martin
      Bureau of Ocean Energy Management
      National Renewable Energy Laboratory
      Marine Technology Society
For more information, contact Maile Sullivan at (206) 543-2822 or orcabowl@uw.edu
# # #
Housed in the College of the Environment at the University of Washington, Washington Sea Grant leads research, outreach and education for people to understand and address challenges facing our ocean and coasts.
Join the conversation with on Facebook, Twitter, and Instagram.