September 19, 2019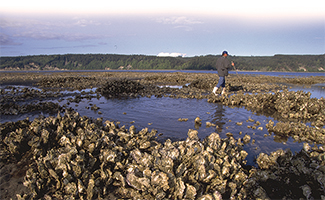 NOAA National Sea Grant office announced today a suite of federal funding awards in aquaculture, with three of them going to Washington Sea Grant. The four awards, totaling $1,980,133, will support aquaculture research projects and collaborative programs aimed at advancing sustainable aquaculture in the U.S. The awards begin this fall and extend over three years.
Washington Sea Grant will lead the three projects, with key staff coordinating the research and collaborating on outreach with a broad range of partners.
West Coast Aquaculture Collaborative: 
Partner(s): Pacific Coast Shellfish Growers Association; Western Regional Aquaculture Center; Willapa Bay Oyster Growers Association; Agricultural Research Service; Pacific Shellfish Institute
Federal Funding: $1,193,009
Washington Sea Grant, Oregon Sea Grant, and California Sea Grant propose to form a collaborative unit to engage science and education partners, industry and resource management agencies in tackling complex, region-scale barriers to sustainable aquaculture on the West Coast. The operational approach is to launch the collaborative by participating in a pilot project that addresses an urgent need in shellfish aquaculture and builds on the collective strengths of the programs and partners. Outcomes of the three-year effort will include an effective collaborative structure, enhanced program capacity in two states, the completed pilot project, and scoping information and lessons learned to apply to future projects, as well as advanced oyster and clam aquaculture practices developed to address interactions specifically around eelgrass and burrowing shrimp challenges. If the pilot project is successful, it will represent progress toward a novel, replicable approach to other complex issues.
Seaweed lines of change: Laying the groundwork to advance the practice of sustainable seaweed farming in the Pacific Northwest
Partner(s): Puget Sound Restoration Fund; Hood Canal Mariculture
Federal Funding: $99,997
Washington Sea Grant, working with Hood Canal Mariculture and Puget Sound Restoration Fund, is proposing to develop and deliver a tiered training program for potential seaweed farmers in Washington State. This program consolidates the team's practical seaweed farming knowledge gained through a collaboration with NOAA and the University of Washington, to assess the ability of cultivated sugar kelp to mitigate local ocean acidification. The program includes an online introductory half-day workshop and a multi-day intensive training; guidance documents and recorded instruction to be archived on a free online resource library. Research and stakeholder information needs identified during trainings and follow-on technical assistance are to be shared with Sea Grant programs to help inform the development of seaweed aquaculture program priorities in Washington and beyond.
Catalyzing a Cross-Pacific Regional Collaborative Hub to Advance Indigenous Aquaculture Practices and Enhance Marine Food Production for Cultural-Ecological Benefits
Partner(s): Swinomish Indian Tribal Community; Alaska Sea Grant; Hawaii Sea Grant; Kua'aina Ulu 'Auamo (KUA); Puget Sound Restoration Fund; Northwest Indian College; Central Council of the Tlingit and Haida Indian Tribes of Alaska; Sitka Tribe of Alaska; Simon Fraser University; Western Washington University
Federal Funding: $587,127
Washington Sea Grant, Hawaii Sea Grant and Alaska Sea Grant aim to catalyze a cross-Pacific regional collaborative hub integrating research, outreach and education to advance sustainable Indigenous Aquaculture practices and enhance seafood production in the broader Pacific region. Indigenous Aquaculture management practices–including cultural modifications to nearshore environments such as Native Hawaiian fishponds and Northwest coastal indigenous clam gardens–have the potential to strengthen community access to traditional and customary foods, increase local seafood production, and deepen collaborative engagement between Sea Grant and local tribal communities for aquaculture advancement, climate adaptation, and coastal restoration. Integral to the success of the project is developing a community of practice that involves diverse partnerships and stakeholders, comprised of Sea Grant staff, Northwest tribes, Native Hawaiian communities, universities, minority-serving colleges, and local non-profit organizations. Activities include: convening two cross-regional summits to learn about local and regional examples of traditional Indigenous Aquaculture systems; conducting a comprehensive assessment of cross-Pacific Indigenous Aquaculture; advancing existing restoration sites and collecting ecological baseline data on the effects of intertidal modifications on the nearshore ecosystem; and strategic planning for future Sea Grant engagements and investments in Indigenous Aquaculture. Additionally, the collaborative will support inclusive workforce and leadership development through fellowships and internships for students from historically underrepresented or underserved colleges.
Nurturing the Successful Growth and Maturation of a Domestic Seaweed Aquaculture Industry: Identifying and Removing Barriers and Promoting Opportunities
Lead: Connecticut Sea Grant
Partners: Connecticut Department of Agriculture, Bureau of Aquaculture; Cape Cod Cooperative Extension; Washington Department of Agriculture; Washington Department of Fish and Wildlife; Washington Department of Natural Resources; Hood Canal Mariculture, Inc.; Puget Sound Restoration Fund; The Suquamish Tribe; The Sustainable Collective; Alaska Sea Grant; Maine Sea Grant; New Hampshire Sea Grant; National Sea Grant Law Center; New York Sea Grant; Oregon Sea Grant; ; Rhode Island Sea Grant; WHOI Sea Grant; Rhode Island Sea Grant Legal Program
Federal Funding: $1,085,131
Connecticut Sea Grant, in partnership with Washington Sea Grant and the other above state programs, is proposing to establish a National Sea Grant Seaweed Hub. The topic-based Hub would serve as a central clearinghouse for available science-based, non-proprietary, practical resources related to previous and current seaweed aquaculture research and extension efforts. The Seaweed Hub would enable Sea Grant programs as well as federal and state agencies to access current information to guide their own planning and outreach efforts. The establishment of the Seaweed Hub will also provide seaweed aquaculture stakeholders with the information they need to make better informed decisions.