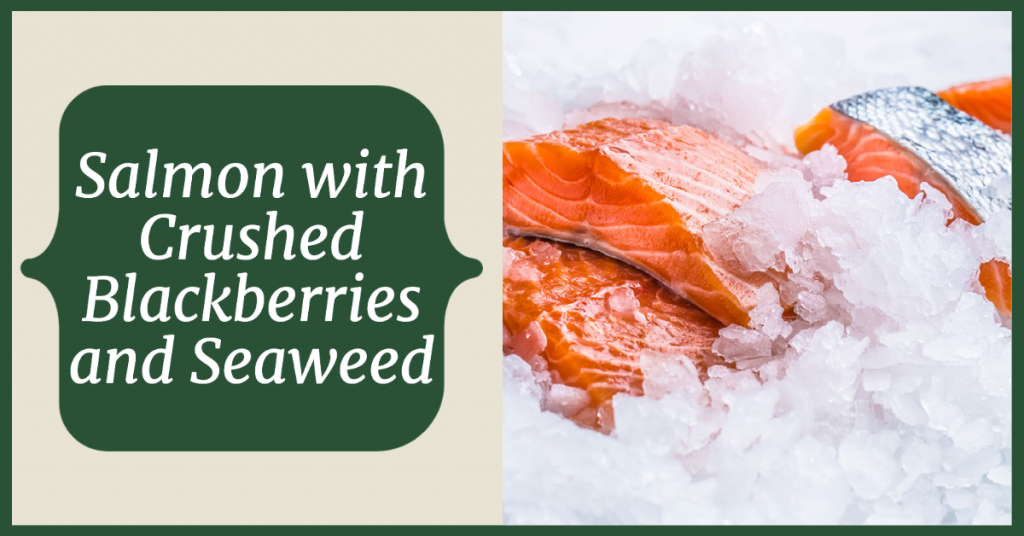 September 16, 2022
By Olivia Horwedel, WSG Science Communications Fellow
For this week's sustainable seafood recipe, we are cooking Sean Sherman's Salmon with Crushed Blackberries and Seaweed from The New York Times. This recipe celebrates the incredible bounty of Pacific Northwest foods as well as the Coast Salish preparations for these complementary ingredients. Salmon is the focal point of this dish which is commonly caught in the Salish Sea. There are several ways to source salmon locally in Washington, and Sea Grant encourages attempting to source your salmon from Indigenous fishers when possible. Another main component to this dish is the seaweed, which is becoming more commonly grown in Washington waters and is an incredibly sustainable aquaculture operation. Enjoy this beautiful dish that celebrates Indigenous flavors and culture of the Pacific Northwest.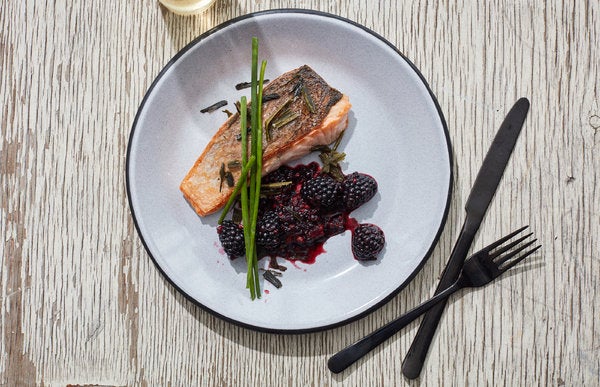 Ingredients:
Yields 4 servings
2 cups fresh blackberries
Coarse sea salt
4 (5- to 6-ounce) skin-on salmon filets, preferably wild-caught sockeye salmon
3 tablespoons sunflower oil, plus more as needed
2 to 3 tablespoons dried seaweed (wakame is recommended)
Fresh chive stems, for garnish
Method:
In a medium bowl, crush half the blackberries using the back of a fork. Add the remaining whole blackberries, stir to coat and season to taste with salt; set aside.
Pat salmon filets dry with a paper towel. Season with salt on both sides.
Heat a large, heavy sauté pan or cast-iron skillet over high. When the pan is hot, add 3 tablespoons oil and carefully swirl it around to coat the bottom of the pan. When the oil begins to shimmer, working in batches if necessary, place the filets in the pan, flesh-side down, and sear until the salmon picks up some color and releases easily from the pan, 1 to 2 minutes. Flip the fish, reduce the heat to medium and continue cooking until cooked through, about 2 minutes more, depending on the thickness of the salmon.
Transfer the filets from the pan to a warm plate and tent with foil until all filets are cooked, making sure to get any of the salmon skin that may stick to the pan. (If you're cooking your filets in multiple batches, you'll want to add 2 to 3 tablespoons of oil to the skillet before pan-searing the second batch.)
Divide the salmon among plates, serving it skin-side up. Top with the blackberries, then garnish each plate with the seaweed and a few chive stems.