October 19, 2020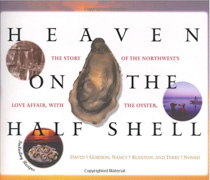 "Shuck, slurp, repeat."
Washington Sea Grant is proud to announce its plan to revise and update the popular book, Heaven on the Half Shell: The Story of the Northwest's Love Affair with the Oyster.
Heaven on the Half Shell tells the true story of oyster farming in the Pacific Northwest. Informative text and engrossing historic and contemporary photos showcase the efforts of pioneering aquaculturists, scientists, field technicians, oyster connoisseurs and others who have shaped this unique industry over the course of nearly 200 years.
The book was originally published in 2001 by Graphic Arts Center Publishing. The new edition will be published in partnership with Washington Sea Grant and The University of Washington Press. Over the nearly 20 years since WSG penned the first edition, the shellfish and oyster industry has tremendously grown and changed — and so WSG plans to substantially revise and expand the book for the second edition. To do so, WSG comes to you, the experts, with a request: who and what should we make sure does not get left out?
WSG invites you to contribute your ideas. We are looking for input on interview sources and stories related to the following topics:
The trailblazers and stars of the oyster industry today
The pioneering women who got the oyster industry off the ground, and who continue to shape it today
The past and current role of oysters and shellfish to Pacific Northwest tribes
The role of Japanese immigrants and their descendants in the industry
The major technological advancements over the past 20 years
Favorite oyster recipes
Please send your suggestions to Heaven on the Half Shell co-authors David Gordon and Samantha Larson, at david@davidgeorgegordon.com (or 206-841-6326) and larsonsa@uw.edu
Thank you so much for your input!